What is Evorel Sequi?
Evorel Sequi is a hormonal replacement therapy (HRT), used to effectively relieve the symptoms of menopause. Altogether there are two forms of patches; Evorel 50, containing the ingredient estradiol hemihydrate, and Evorel Conti, containing the ingredients estradiol and norethisterone. These ingredients are forms of oestrogen and progesterone (main female sex hormones). Distressing symptoms of menopause, such as night sweats, hot flashes, and irregular periods can be successfully treated by using the Evorel Sequi patch.
How does Evorel Sequi work?
Evorel Sequi contains four Evorel patches and four Evorel Conti patches. The former contains just estradiol whilst the latter contains a combination of estradiol and norethisterone acetate. This treatment is used without a break in-between patches and to maintain oestrogen levels that drop during menopause with the help of a natural oestrogen, estradiol.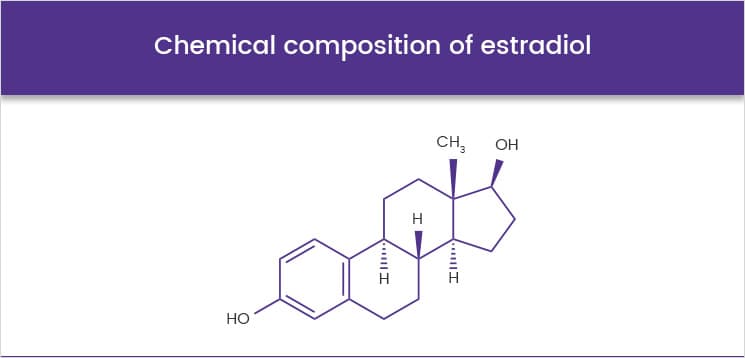 The hormones in Evorel Sequi are designed to coincide with certain times in your cycle, so it is important to use the patches at the right time. In the last two weeks of every month, Evorel Conti patches should be used. These patches contain estradiol, but also progestogen. The additional progestogen is helpful in the treatment of menopause, because it promotes womb health, which is often a concern if you are using oestrogen treatments.
What are the benefits of Evorel Sequi?
The menopause can result in a woman experiencing a significant drop in oestrogen. This causes symptoms such as hot flashes, vaginal itching, vaginal dryness, drop in bone density and changes in mood and sex drive. Managing the menopause with HRT treatments means these symptoms subside.
Using Evorel Sequi can offer much needed relief from these symptoms, by:
Replenishing lost oestrogen via a patch on the skin
Maintaining womb health with the addition of progestogen
Helping to prevent osteoporosis
How do you use Evorel Sequi?
Using Evorel Sequi patches is quite simple, the guidelines below provide some usage guidance, and you can also read more about how to use this HRT treatment in the attached patient information leaflet at the bottom of the page.
Evorel Sequi is to be used for 28 days
During the first 14 days, one estradiol-only (Evorel 50) patch should be worn at all times
During days 15-28, one estradiol + norethisterone (Evorel Conti) patch should be worn at all times
Must be applied below the waist onto clean and dry skin that it stays in place. The thigh or bottom is usually recommended
If it falls off, it is advised to wait till cutaneous vasodilation ceases before applying a replacement patch treatment
The patches should be changed twice a week
HRT patch
Protective liner
HRT patch
Protective liner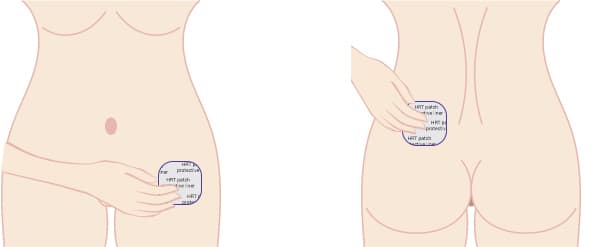 Available dosages
Evorel Sequi contains different patches that should be used in sequence. Each course is started with four 50mcg Evorel 50 patches and finished off with four 50mcg/170mcg Evorel Conti patches.
What are the precautions/interactions to be aware of when using Evorel Sequi?
Most women can use Evorel Sequi if they are experiencing menopause symptoms. There are some precautions that should be carefully considered before deciding to buy Evorel Sequi patch.
You may not be prescribed this treat menopause treatment patch if you have or have ever had oestrogen-sensitive cancer, or if you are allergic to any or the ingredients.
Evorel Sequi patches should be used with caution if you are dealing with high blood pressure, heart failure, endometriosis, obesity, diabetes, epilepsy, or severe varicose veins. This is also the case if you have a history of asthma or depression.
Evorel Sequi patches shouldn't be used if you have a history of breast cancer, heart attacks, or strokes.
This treatment shouldn't be used during pregnancy or whilst breastfeeding.
What are the potential side effects of Evorel Sequi?
Evorel Sequi patches aren't likely to cause serious side effects, but you'll normally be monitored by your doctor to ensure that you are getting the best benefit from your treatment. Common symptoms may include irritation around the area where the patch is applied, headaches, weight gain, heavy periods (if you still have them), mood changes and insomnia.
Most of these side effects should go away the longer you use the treatment, but if you experience anything bothersome or serious, it's best to speak to a medical professional.
How can I buy Evorel Sequi online safely?
If you are experiencing symptoms associated with menopause and your doctor has recommended Evorel Sequi, you can get your treatment online. Start by completing our simple, no obligation online consultation with one of our doctors. This is completely free, and will help us to make sure that you can use this treatment safely.
Once you are approved to use this medication, you can choose to complete your order online, and your medication will be shipped directly to you from our pharmacy. All orders are shipped at no additional cost for next day delivery.
Note: Decisions about treatment are for both the prescriber and the person to jointly consider during the consultation. However, the final decision will always be the prescriber's.