What is Evorel?
Evorel is a hormone replacement therapy(HRT) that comes in the form of a patch. This treatment helps to relieve the symptoms caused by menopause, including hot flushes, night sweats, mood swings, vaginal dryness and itching and irregular periods.
There are three Evorel products that can be purchased from Healthexpress - Evorel, Evorel Conti & Evorel Sequi. Each product offers a different combination of hormones or method of application. To understand the difference further, please read on.
Please note, while using any HRT treatment, your health should be reviewed regularly by your doctor. You must also have already been prescribed by your regular doctor, before you can buy Evorel online.
How does it work?
Throughout a woman's life, her ovaries naturally produce a hormone called oestrogen. This hormone is responsible for lots of bodily functions, including sexual development and menstrual cycles. However, when menopause occurs, levels begin to drop - this can cause a number of unpleasant symptoms.
Evorel patches work by supplying the body with oestrogen (and some versions, progestogen) via the skin to compensate for a loss of this hormone. The active ingredient is estradiol - also referred to as oestradiol- which is oestrogen in a synthetic form.
One possible secondary effect of taking estradiol is that it causes the lining of the womb to thicken. For women who have not had a hysterectomy, uncontrolled growth of this lining can be dangerous and increase the change of endometrial cancer. If this is the case for you, a treatment also containing progestogen is more suitable.
Depending on whether you have a uterus, will dictate which version of the medication is best for you:
Evorel contains only oestradiol - ideal for those who do not have a uterus
Evorel Conti contains both oestradiol and norethisterone acetate - ideal for those who do have a uterus
Evorel Sequi contains patches of both of the above - it is ideal for those who do have a uterus
Please note, this treatment is not a contraceptive.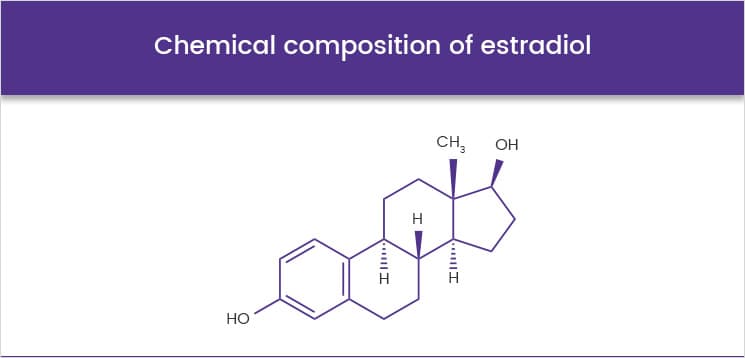 How do I use the patches?
Each patch is a small square-shaped transparent patch of just 0.2mm thick that is applied to the skin. Every packet will contain a patient information leaflet (PIL) that should be read thoroughly before starting. Always follow the instructions - if you are ever uncertain, consult your prescribing doctor.
The following guidelines apply to all versions of Evorel:
patches should be placed below the waist, ideally the thigh or bottom, and never on the arm or near the breasts
patches should not be applied to places where they can easily rub off e.g. waistband or breasts
make sure the chosen area is clean and dry
do not apply to broken skin as it may irritate
keep the area free of products such as creams, lotions and powders
patches should be changed twice a week - try to apply on the same two days every week
fresh patches should be applied to a different area to avoid further irritation of the area, especially if you have sensitive skin
patches are waterproof, so can be worn whilst exercising, bathing or swimming
What if the patch falls off?
If your patch falls off, you should always apply a new one. However, still replace it on the original day. If you forget to change your patch, put on a new one as soon as you remember.
Evorel
At HealthExpress, we sell Evorel patches in four doses - 25mcg, 50mcg, 75mcg and 100mcg.
Your doctor will usually recommend you begin with a smaller dose and only if it proves ineffective, should you increase your dose.
Your regular GP should have monitored your reaction to the medication before confirming which dose is best.
Evorel Conti
Every Evorel Conti patch releases a dose of 50mcg estradiol and 170mcg norethisterone acetate over a 24-hour period.
Patches should be changed twice weekly, with no breaks in-between.
Evorel Sequi
You can read more about how to use this treatment in the patient information leaflet. If you are still unsure, please contact your doctor.
A brief summary follows:
Evorel Sequi is to be used for 28 days
during the first 14 days, one estradiol-only (Evorel) patch should be worn at all times
during days 15-28, one estradiol & norethisterone (Evorel Conti) patch should be worn at all times
patches should be changed twice a week
HRT patch
Protective liner
HRT patch
Protective liner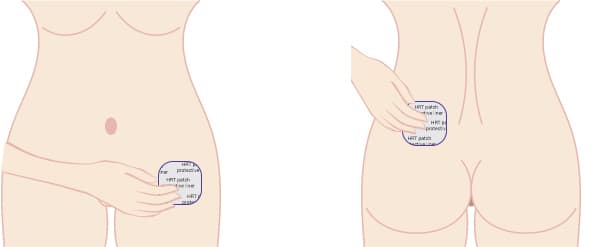 What are the possible side effects?
All prescription medication can cause side effects.
As Evorel is a transdermal treatment and not ingested, it is unlikely to cause gastrointestinal (stomach/intestinal) side effects.
The following are the most commonly occurring side effects:
headache
nausea
skin reactions
abdominal pain
breast abnormalities
menstrual cycle irregularities
uterine disorders
vaginal discharge
weight changes
The milder of these side effects may go away as your body adjusts to the treatment. However, it is important to always tell your doctor about any side effects.
You should seek immediate medical attention if you experience any more serious side effects, including breast abnormalities, long-lasting vaginal bleeding and discharge and any signs of a blood clot.
Who can use this treatment?
You should have first been prescribed this treatment by your regular doctor.
If you have not had a hysterectomy, you will most likely be prescribed Evorel Conti and Sequi (as these contain synthetic progestogen). If you have had a hysterectomy, you will be prescribed Evorel (as it contains only synthetic oestrogen.
If any of the following apply to you, the above treatments should be avoided (you should speak to your doctor about alternatives):
a history of endometriosis
a history of blood clots or clotting disorders
a history of deep-vein-thrombosis (DVT)
high blood pressure
uncontrolled diabetes
allergies to any of the treatments ingredients
liver disease
you are pregnant or breastfeeding
What precautions should I take?
When using this, or any other long-term treatment, you should visit your doctor on a regular basis for check-ups. During check-ups, you should inform them of any other conditions you have or medications you are taking.
HRT has been linked to a slightly increased likelihood of breast and endometrial cancer. It is important that you regularly examine your breasts for abnormalities. If you discover any, report them to your doctor immediately. The same applies if you notice unusual vaginal bleeding over a long time.
HRT also slightly increases the chance of suffering blood clots. You should be aware of the signs of the condition (pain and unusual sensations in the limbs, breathlessness, coughing and chest pain) and seek immediate medical attention if you experience any. You should also inform your doctor if you are going to have any surgery, or be in any situation where you will be lying down still for a long period of time.
For the complete list of precautions, please check the patient information leaflet.
How can I buy Evorel online safely?
All three versions of Evorel are available from HealthExpress, however, you must already be using these treatments. Upon your completion of one of our consultations, our doctor will review it and you'll be able to complete your order.
Once reviewed (and if approved), your prescription will be sent to our pharmacy, where your treatment will be prepared and then shipped to you with complimentary next-day delivery.
It can be unnerving to purchase prescription medication for the first time online. However, you'll be relieved to learn that HealthExpress is regularly inspected by UK medical regulatory bodies.