What is Evorel?
Evorel are HRT patches available in four strengths starting from 25mcg to 50mcg, 75mcg and 100mcg. Containing oestrogen only, the varying dosages make it highly tolerable and they're particularly popular with women who have had a hysterectomy.
The patches help to relieve the symptoms caused by the drop in oestrogen brought on by the menopause. This includes alleviating hot flushes, night sweats, mood swings, vaginal dryness and itching and irregular periods.
Evorel patches are used as a short-term solution to easing menopausal symptoms and should be reviewed yearly by your doctor. Whilst we offer all four strengths online, you must have already been prescribed Evorel in the past to buy the treatment.
How does Evorel work?
The active ingredient in Evorel is estradiol - also referred to as oestradiol - which is a synthetic and highly effective hormone for the female sex hormone oestrogen. Evorel patches mainly work by supplying the body with oestrogen via the skin to compensate for a loss of this hormone as a result of changes during menopause. As it is a very natural form of oestrogen, it's able to perform functions similar to how the hormones effortlessly produced by the body performed before menopause.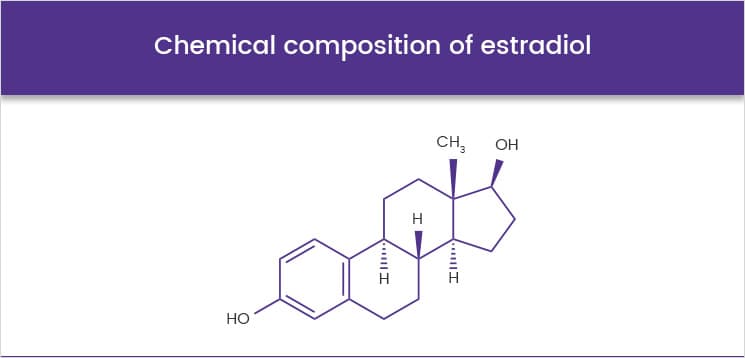 What are the benefits of Evorel?
The menopause causes a drop in hormone levels, particularly oestrogen, which can lead to a number of uncomfortable symptoms, in particular night sweats, vaginal dryness, loss of bone mass and changes in your sex drive. Evorel contains natural oestrogen, so combats these symptoms by compensating for this significant drop in oestrogen within the female body. Without these distressing symptoms, women can continue living their life distraction free.
Evorel patches are also low-maintenance and require less remembering. Being a transdermal patch, it means that you won't need to remember to use it everyday, but simply to ensure that you change the patch twice weekly.
Many women have found that the Evorel patches are extremely flexible in strength, allowing you to pick the right dosage to suit you.
How do I use Evorel patches?
The Evorel patch is a small square-shaped transparent patch of just 0.2mm thick that is applied to the skin. Every packet of medication will contain a patient leaflet to be read before starting, but here are the guidelines to using Evorel patches:
Patches should be placed in the area below the waist, ideally the thigh or bottom and never on the arm or near the breasts.
Patches shouldn't be applied to places where they can rub off like the waistband, or to or around the breasts.
Make sure the chosen area is clean and dry. Do not apply to broken skin as it may irritate.
Keep the area free of products such as creams, lotions and powders before applying.
Patches should be changed twice a week and there should normally not be a break between patches, unless your doctor has advised otherwise.
Fresh patches should be applied to a different area to avoid further irritation of the area, especially if you have sensitive skin.
Patches are waterproof, so can be worn whilst exercising, bathing or swimming.
HRT patch
Protective liner
HRT patch
Protective liner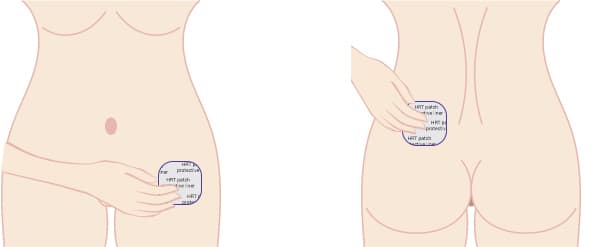 What should I do if the patch falls off?
If your patch falls off, you should always apply a new one, but still change on the original day. If you forget to change your patch, just put on a new one as soon as you remember.
What dosages are available for Evorel?
At HealthExpress, we offer Evorel patches in four dosage strengths; 25mcg, 50mcg, 75mcg and 100mcg. The doctor will usually recommend a smaller dose first of all with the opportunity to increase it if it isn't effective.
What are the side effects of Evorel?
As Evorel is a patch treatment, it is unlikely to cause gastrointestinal side effects as it is not ingested, but the most expected side effects include:
Redness or itchiness where the patch is applied especially if you have sensitive skin.
Whilst all side effects associated with Evorel are uncommon, some other adverse effects include:
Breast tenderness
Acne
Changes in mood
Heavy periods (if you are still experiencing them)
Headaches
Insomnia
These side effects may go away as your body adjusts to the treatment, but it's important to tell your doctor of any side effects, if you experience any, when you go for your check-ups. If you experience any more serious side effects it's important to speak to a medical professional as soon as possible.
What are the precautions/interactions I should be aware of when using Evorel?
Most women who are experiencing menopause symptoms can buy and use Evorel if their doctor has recommended it to them. Women who haven't had a hysterectomy will most likely to be prescribed Evorel Conti and Sequi. After a hysterectomy, taking normal Evorel with just estradiol should be sufficient.
Other possible prevention causes include:
Women with a history of endometriosis, blood clots, high blood pressure, gallbladder disease and diabetes.
Smokers and those women who have migraines should also use Evorel with caution.
Increased sensitivity to any of the ingredients in Evorel
Women who have had deep-vein thrombosis
Women with a history of liver disease
HRT treatment shouldn't be used during pregnancy or when breastfeeding.
For the complete list of precautions you should be aware of when using Evorel patches, please check the patient leaflet at the bottom of the page and attend the yearly check-ups.
How can I buy Evorel online safely?
Evorel patches are available to from HealthExpress to women who are already using these treatments and require a repeat prescription. Upon completion, our doctor will review it and you'll be able to complete your order. Our repeat ordering service also makes it super quick. Once completed, your prescription will be sent to our pharmacy, where your treatment will be shipped directly to you free of charge for next day delivery.