What is Femodene?
Femodene is a reliable combined contraceptive commonly referred to as 'the pill'. It includes two hormones; a synthetic version of oestrogen and progestogen (ethinylestradiol 30 micrograms and gestodene 75 micrograms respectively). As well as this, it can provide additional benefits to manage symptoms associated with the menstrual cycle.
What are the additional benefits of Femodene?
Femodene pills offers almost immediate protection if taken on the first day of your period. As well as providing convenient protection, Femodene is a proven treatment for a variety of different conditions:
Femodene is often prescribed to women who experience very painful periods (dysmenorrhoea), heavy periods (menorrhagia), irregular periods, continuous menstrual bleeding or premenstrual tension without the need to be contraception.
Femodene is also a treatment for endometriosis; a common condition that causes womb cells to grow outside of the womb on other cells.
How does Femodene work?
Combined contraceptives like Femodene prevent pregnancy in three different ways. Firstly, Femodene prevents ovulation. Secondly, they alter the lining of the womb, so if an egg does get released, it will not be able to embed itself and grow. Thirdly, it changes the lining of the cervix, so sperm won't be able to reach the womb.
Without oral contraceptives
With oral contraceptives
Released egg
Fallopian tube
Ovary
Endometrium
(uterus lining)
Cervix
UTERUS
VAGINA
Oestrogen and progestogen can prevent an egg from being released from the ovaries each month most of the time.
Progestogen causes thinning of the endometrium (uterus lining) so, if an egg is released, it cannot implant on the wall.
Lastly, progestogen also thickens the mucus in the cervix so sperm is prevented from reaching the egg.
How do I take Femodene?
Femodene is a monophasic contraceptive pill. This means that it needs to be taken for 21 days, followed by a seven-day break. During this break, you will still be completely protected, but you may experience a withdrawal bleed.
You should try to take Femodene on the first day of your period as it will provide almost immediate protection. You can use it up to day five of your period, but it won't be fully effective for up to seven days, during which time you would still be advised to be use a condom.
What should I do if I miss a Femodene pill?
If you happen to forget to take your pill or more than one pill in one blister pack at the usual time, follow the below protocol:
If you have missed one Femodene pill then take it as soon as possible unless it is close to the time of your next pill. If it is nearer to the next pill than the previous time, miss it out completely and continue with the blister pack as normal. Missing one pill in one blister pack will not affect the effectiveness and you will not need further barrier protection.
If you miss two or more pills in one blister pack, then you will not be protected at maximum effect. However, take the last missed pill as soon as you remember unless it is close to the time of your next pill. Do not take two pills in close proximity - this will not combat the mistake - and skip the missed pills. It is advised to use condoms or refrain from sex for the next seven days.
Use our interactive tool below on what to do if you miss one or multiple pills in one month (menstrual cycle). Simply click to begin.
How many pills have you missed? How late?
One pill

less than


12 hours late
Started a new pill pack

less than

12 hours late
One pill

more than


12 hours late
Started a new pill pack

more than

12 hours late
*Vomiting and diarrhoea experienced within four hours of taking the pill is also classed as a missed pill.
*There are more than seven pills left in the pack. Continue to finish the pack, overlapping the seven-day break. Take your seven-day break and start your new pack as usual.
*There are fewer than seven pills left in the pack. Continue to finish the pack, overlapping the seven-day break. Start the new pack immediately after the old one is finished (missing out the seven-day break completely).
*If you have missed contraceptive pills in the first one to nine days of the pill pack and have had sex without barrier contraception, you could be pregnant. If you have calculated this between one to five days after the unprotected sex, you could use emergency contraception such as the IUD or morning-after pill. If not, continue your contraception until the seven-day break. If you don't have any bleeding, it is advised to take a pregnancy test and/or consult your doctor.
For more information about what to do if you've missed your dosage for a significant period, it's always best to speak to your doctor or pharmacist.
What are the dosages of Femodene?
There is one standard dosage available with Femodene: Synthetic oestrogen (ethinylestradiol 30 micrograms) and a progestogen (gestodene 75 micrograms). There are 21 pills per pack, which will last a month, including your required 7 day break where you should expect some breakthrough bleeding.
This dosage has been formulated to maintain effectiveness whilst simultaneously minimising possible side effects.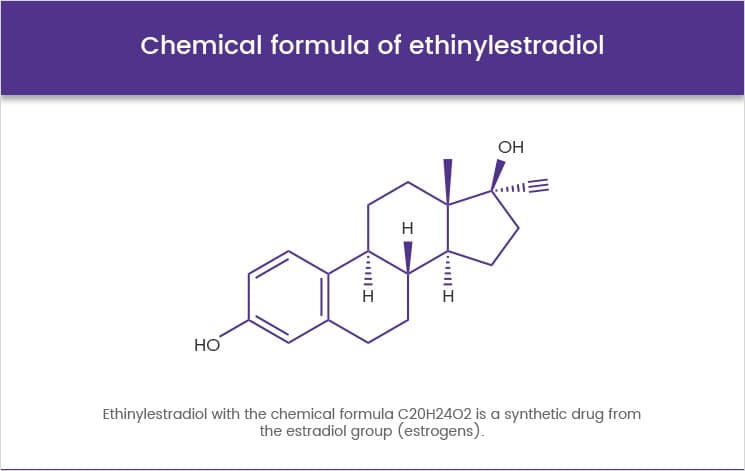 What side effects are associated with Femodene?
The majority of women can use Femodene without experiencing any side effects. However, some users do experience negative reactions, particularly women who are using the pill for the first time. These potential side effects include headaches, weight gain, breast tenderness, nausea and vomiting.
Any side effects you do experience should pass quite quickly. In more rare cases, side effects can include disturbance in liver function, blood clots, depression and weight loss.
If you experience any of the above, please talk to your doctor.
Stopping Femodene
It's very common for women to ask what side effects might occur when coming off contraception. Some of the more common reactions that some women might find are spotting, cramps, acne and heavier menstruation.
What precautions/interactions should I be aware of?
Most women over the age of 18 can buy Femodene online to prevent pregnancy. However, certain medical conditions may prohibit you from using this medication. These include a history of heart or circulation problems, liver problems, depression, diabetes, bowel diseases or blood clotting. Women who are considered obese may be unable to take this medication.
If you are currently breastfeeding, you should consider using a mini pill as an alternative contraception.
For more information about this medication's risks, precautions and interactions, please refer to the customer service leaflet, which is included with your medication and at the bottom of this page.
If I've used the morning after pill, can I use this medication?
This daily oral contraceptive is known to react badly with ulipristal, more commonly sold under the name ellaOne. If you have taken ulipristal then it can make Femodene less effective, so you should use another form of contraception (such as condoms) for 14 days after taking it.
Can I buy Femodene online?
You can buy Femodene safely and securely online from HealthExpress by taking a free and confidential online consultation. This will feature a few questions about your medical history, which will be reviewed by one of our doctors. Based on the answers you give, they can decide whether you are suitable for Femodene. Your prescription will be forwarded to our pharmacy where it will be dispatched for free next day delivery.
If you have any issues or queries, please do not hesitate to contact our friendly Customer Service team.