What is Fucibet?
Fucibet is a topical cream that contains the active ingredients fusidic acid and betamethasone valerate. The combination of these ingredients, gives Fucibet two effects:
it combats bacterial infection
and reduces inflammation
This makes it the perfect treatment if you have an underlying condition like eczema (e.g. atopic dermatitis) or psoriasis as well as an infection that is making symptoms worse.
If you do not have a skin infection, you should look at other treatments like Hydrocortisone and Eumovate. These have only anti-inflammatory effects without antibiotic properties.
How does Fucibet work?
Inflammation is a sign of your body fighting infection. However, with eczema and psoriasis it is a sign of an unnecessary immune response. If you have either of these conditions, your body perceives threats from the environment (or stress or genetics) and reacts with inflammation. You then experience symptoms like swelling, redness, itching and pain.
Fucibet contains the corticosteroid betamethasone valerate. This is not the same kind of steroid used as a performance-enhancing drug. Instead, corticosteroids are naturally produced in your body, and suppress overactive immune systems. The result is reduced inflammation.
If you have an infection, you can expect to experience painful symptoms as the bacteria attack cells in your skin. Eczema and psoriasis also make you more susceptible to infections, as broken skin is the ideal entry point for bacteria.
Fusidic acid, the other active ingredient of Fucibet, is an antibiotic. It works by preventing bacteria from producing an enzyme needed for growth. This makes it easier for your body to clear the infection from your body.
How do I use it?
Full instructions are included in the patient information leaflet - this is included with your order.
One part of the body will require a differing amount of cream to another. You should use the graphic below to know how much to apply. One fingertip unit is from the end of the finger to the first joint (furthest from the centre of the hand).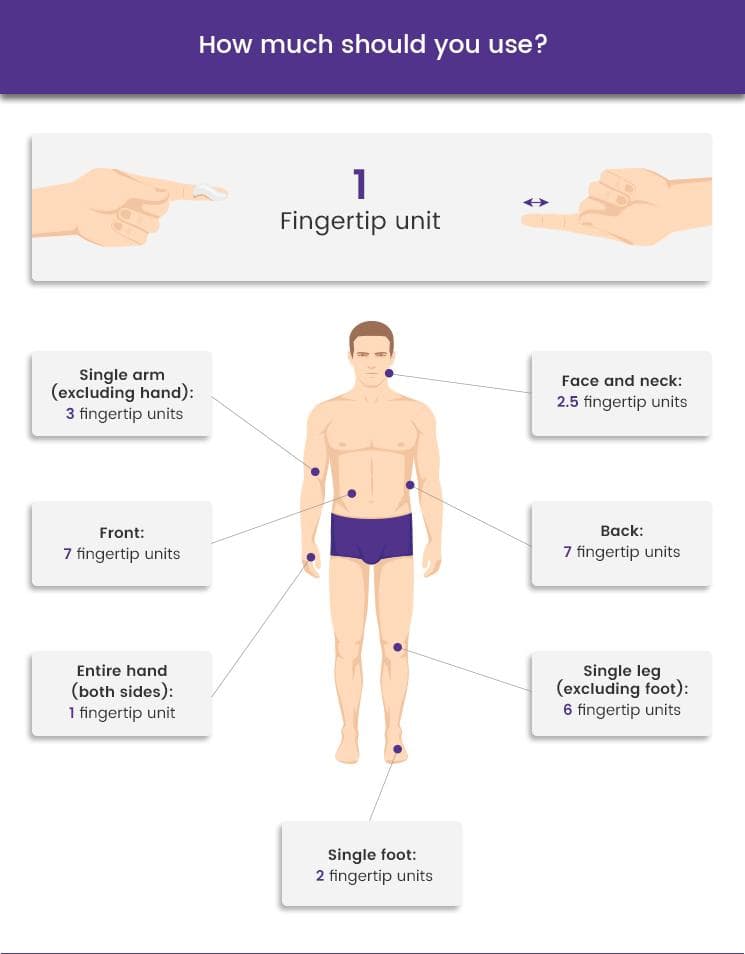 Instructions:
wash and dry your hands before and after the use of Fucibet
you should apply a thin layer to the affected area - rub in until it has been absorbed completely
apply the cream 1-2 times daily - reduce applications as symptoms improve
do not exceed the recommended course - 2 weeks of continuous use
do not use this cream on your face (unless directed by your a healthcare professional). If you get it in your eyes, wash it out with water
if you normally apply emollients (moisturisers) - you should wait until the cream is absorbed first
If you forget to apply the cream, do not apply extra. Continue applying it as normal.
If you accidentally swallow this cream, contact your doctor ASAP.
What are the possible side effects of Fucibet?
Remember - if you experience any reactions to Fucibet (or any other medication) that you think are serious or distressing, seek immediate medical attention.
However, if used correctly, the chance of needing to use another medication is very unlikely.
Most topical corticosteroids share the same common side effects - skin reactions. For example, increased irritation, worsening of conditions, pain or itching. Side effects will most likely occur on the site of application.
These reactions may appear like the usual symptoms of eczema and psoriasis. Due to this, it is important that you stop using treatment if there has not been a visible improvement within 7 days of use. In this case, you should inform your doctor so that they can prescribe a new medication.
Rare side effects include:
adrenal suppression
hypertrichosis (increase in hair growth)
skin depigmentation (changes in colour)
If you become tired, anxious or depressed, seek immediate medical attention. These are symptoms of adrenal suppression, a serious reaction.
You should also seek immediate medical attention if you have any difficulty breathing or experience swelling of the face, lips and tongue - this indicates a serious allergic reaction.
Who can use it?
You should only use this product as the doctor has advised and not for any other condition or skin infection. At HealthExpress, our doctors will only prescribe Fucibet for the treatment of certain forms of psoriasis and eczema.
Do not use it to treat:
perioral dermatitis
bacterial, fungal or viral infections (without another underlying skin condition)
undiagnosed conditions
cold sores, shingles or chickenpox
widespread plaque psoriasis
Using Fucibet to treat the above conditions may make them worse. There are other more effective medications available.
Do not use this treatment if you are also using another corticosteroid or if you have allergies to any of its ingredients (e.g. cetostearyl alcohol or chlorocresol).
What precautions should I take?
Do not exceed the recommended course for Fucibet. As a potent steroid, overuse will increase the chance of side effects. It will not make it more effective. One reaction to overuse is thinning of the skin.
If you are pregnant, you should check with your doctor before using this product. You should also mention this during your online consultation if buying from HealthExpress.
You should avoid smoking or going near naked flames after applying the cream. It contains flammable ingredients.
Can I buy Fucibet online?
You can buy Fucibet cream online. At HealthExpress, we offer a comprehensive service, including consultation, prescription and delivery at a single price.
We require you to complete a quick online form before ordering. Our doctors will use your answers to questions like "What are your symptoms?" to determine whether the selected product is safe and effective for you. Once approved, they will issue a prescription to our pharmacy. You can then expect your order delivered by the next working day.
If the doctors do not think the treatment is right for you, you will not be charged.