What is Hydrocortisone?
Hydrocortisone is an NHS-approved topical corticosteroid treatment. It reduces skin inflammation, a very uncomfortable symptom of conditions like eczema (dermatitis) and psoriasis. These are currently the only conditions HealthExpress prescribe this treatment for. However, Hydrocortisone is available for other conditions and wounds, including inflamed insect bites.
If you have a bacterial or fungal infection alongside skin inflammation, you should consider our other treatments. For example, Fucidin H Cream is designed to treat bacterial infections and Daktacort for fungal infections. Trimovate can treat both fungal and bacterial infections simultaneously.
Hydrocortisone is a generic treatment. Generics contain the same ingredients as branded medications but are more affordable.
How does Hydrocortisone work?
Hydrocortisone works by the action of its active ingredient - hydrocortisone, a corticosteroid.
It is important to understand the difference between corticosteroids and anabolic steroids. The former are naturally occurring hormones that are produced by your adrenal glands (which sit on top of your kidneys). The latter are performance-enhancing drugs used by athletes.
Your body uses corticosteroids to calm your immune system after a perceived threat has ended. By taking them synthetically, you can reduce symptoms of inflammation. Topical steroids prove very effective in treating eczema and psoriasis as both conditions are a result of an agitated immune system.
If used correctly, Hydrocortisone will relieve symptoms like painful and itchy skin. More potent steroids are available in rare cases where treatment is unsuccessful.
How do I use Hydrocortisone?
This is a very easy treatment to use. However, if you have any uncertainty about any instructions, please contact your doctor or dermatologist. More information is available in the patient information leaflet (PIL) - this will be included with your order.
Please consult the graphic below to determine how much treatment to apply to different body parts. One unit is from the end of your finger to the outermost joint.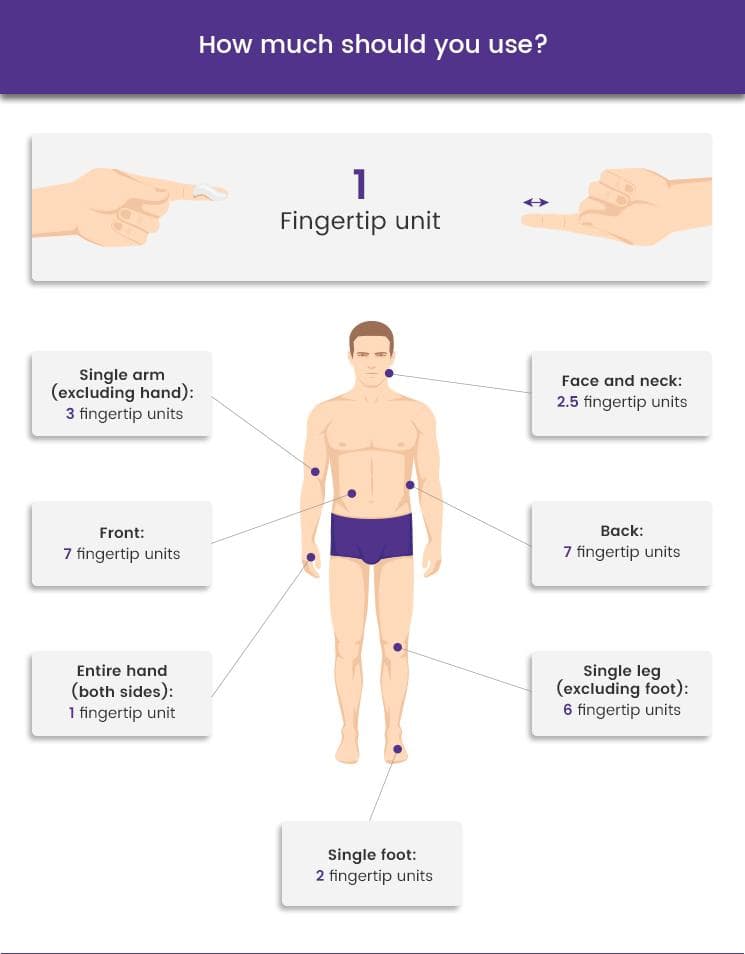 Instructions:
remember- always wash your hands before and after applying treatment
you should rub a thin layer of cream/ointment into the affected areas of skin until it has been completely absorbed
you should apply treatment once or twice daily (depending on severity of symptoms) until you have completed the course - usually 7 days
do not cover the affected area with a bandage or tight clothing - this can increase the chance of side effects
If you forget to apply treatment, do not apply extra to compensate for the missed dose - this will make it more likely for you to experience bad reactions. Instead, wait until the time for your next dose and continue as normal.
If you find your eczema or psoriasis has not improved after a week of using Hydrocortisone, you should stop treatment and contact your doctor for further medical advice.
What are the possible side effects of Hydrocortisone?
All medications can cause side effects. The risk of side effects occurring increases with prolonged use of corticosteroids. For that reason, you should not exceed the doctor's recommended course.
Hydrocortisone is well-tolerated by most users.
The most common side effects attributed to Hydrocortisone include:
skin reactions
telangiectasia (spider veins)
Rare reactions include:
adrenal suppression
excessive hair growth
skin depigmentation
If you experience any of these, you should stop using this steroid cream/ointment and seek immediate medical attention. Especially, if you experience vomiting, diarrhoea and pain - these are symptoms of adrenal insufficiency, which is a dangerous condition.
You should also be aware of the symptoms of allergic reactions - rashes, swelling of the face and mouth and difficulty breathing. If you ever struggle to breathe, go to your nearest hospital or call 999.
Who can use it?
Not everyone can use every medication. Certain people may have ailments or are taking other treatments that increase the chance of experiencing adverse reactions. You should ask a healthcare professional about other treatments if any of the following apply to you:
you have had an allergic reaction to corticosteroids in the past
you are currently taking any other steroid treatment
your skin condition is on the face, genitals or includes open wounds
you have rosacea
your skin condition is the result of a bacterial or viral infection
you have undiagnosed or infected skin lesions
What precautions should I take?
You must not exceed 7 days of continuous use of this medicine.
Once you have applied cream/ointment, do not cover with dressings or tight clothing.
Please note that the ingredients chlorocresol and cetostearyl alcohol may cause local skin reactions (e.g., contact dermatitis).
You should also avoid applying the cream/ointment near the eyes. If it gets in the eyes, wash out immediately and seek medical attention. You should also seek help if you experience any visual disturbances of any kind while using this cream/ointment.
You should avoid going near naked flames when using this treatment - it is flammable.
Can I buy Hydrocortisone online?
You can buy Hydrocortisone from HealthExpress along with a number of other steroids designed to treat skin conditions. Some of these are lotions and ointments, one is a foam and another a medicated tape. Each application is suited for a different body part. Browse the eczema and psoriasis pages for more information.
Consultation
You must complete an online form before you can order a prescription product. The form is easy to fill out and only takes a few minutes. It is so that our doctors can check if the selected treatment will be effective for you.
If they approve of the order, you can expect a next-day delivery of the cream/ointment. If they do not approve, you will not be charged.
Prescription, consultation and delivery are included on every order with no additional charge.