What is Levitra?
Levitra is a prescription treatment in tablet form for men with erection problems. Clinically proven and on the market since 2003, the medication is highly effective, yet available in low dose strengths, making it more suitable for those over the age of 50 as well as diabetic men. Levitra therefore also reduces the chances of side effects.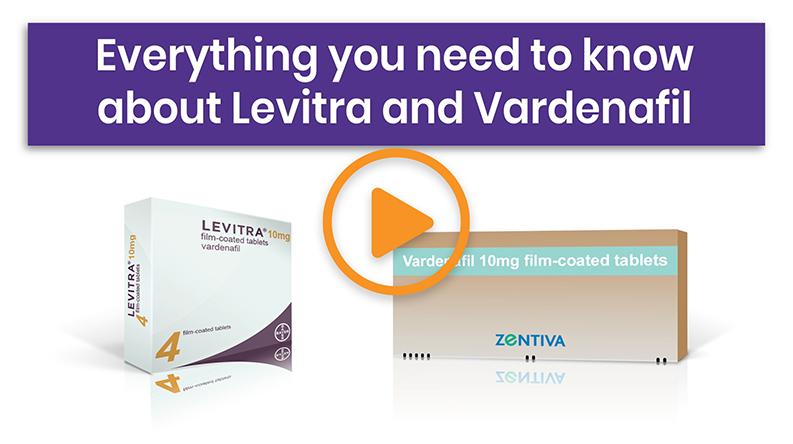 With its effects setting in after only 20 minutes, Levitra is one of the fastest acting treatments for impotence and lasts for up to five hours. Levitra can help treat symptoms of erectile dysfunction, whether this concerns achieving an erection or maintaining it.
It also works for men who have other underlying health conditions such as diabetes, high cholesterol and high blood pressure, and is successful even when used alongside most types of blood pressure medication. Unlike other erectile dysfunction treatments, this medication can even be taken after a meal, allowing for those spontaneous moments.
What are the benefits of Levitra?
Erectile problems are something that many men face at some point in their life. It is important to recognise that you are not dealing with it on your own. In fact, more than 50% of men over the age of 40 experience it at some point.
Are the symptoms caused by physical problems for example a restriction of the blood flow into the penis, Impotence can usually be treated with so-called PDE-5-inhibitors. One of the readily available substances from this drug class is Levitra:
Fast acting, lasts for up to 5 hours
Low standard dosage = lower risk of side effects
Can be taken after a meal
Ideal for men with certain existing conditions e.g. enlarged prostate or type 2 diabetes
Whilst one of the benefits are that it can be taken after food, it is essential that an especially large meal with a high-fat content is not consumed as this may affect the efficacy of the Levitra tablets.
During your online consultation, you can tell our doctors about any pre-existing conditions you may have, and they will be able to ascertain whether Levitra is the correct medication for you to use.
How does Levitra work?
Levitra contains the active ingredient vardenafil, a pde-5-inhibitor. Like Viagra and Cialis, it is one of many ED (erectile dysfunction) treatments which work by increasing the blood flow to the penis. It achieves this by breaking down cGMP (a nucleotide released when aroused), which causes blood vessels in the penis to relax, allowing more blood in. This then leads to stronger and longer lasting erections. Upon climax or the end of stimulation, cGMP is broken down and the blood flow returns to normal.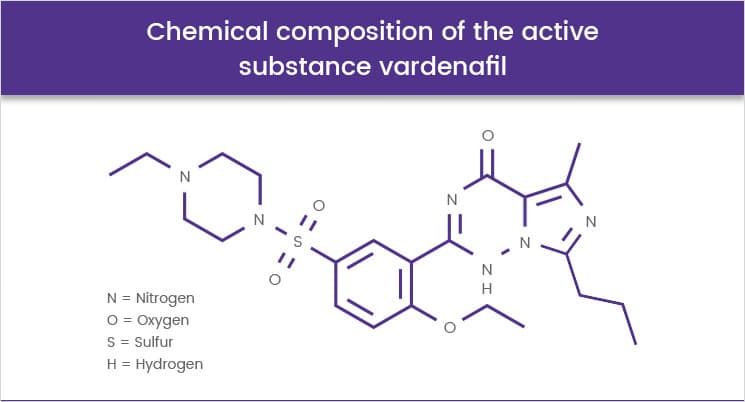 Levitra only targets physiological issues, but erectile dysfunction can also be caused by underlying psychological problems. In the event of this treatment being unsuccessful, the patient should consult his GP who may transfer him to a psychiatrist.
How do I take Levitra?
Levitra is relatively easy and straightforward to use. It is advised not to chew or crush the tablets, they should be swallowed whole with some water. Patients should also avoid to take Levitra after consuming large amounts of alcohol as this may limit its efficacy, other usage instructions include:
A dissolvable alternative is also available in the form of Levitra Orodispersible, which does not require the patient to swallow the tablet.
How long does Levitra last?
Levitra tends to peak around 30 minutes after taking the pill. For some men, Levitra can last for up to 5 hours after ingestion.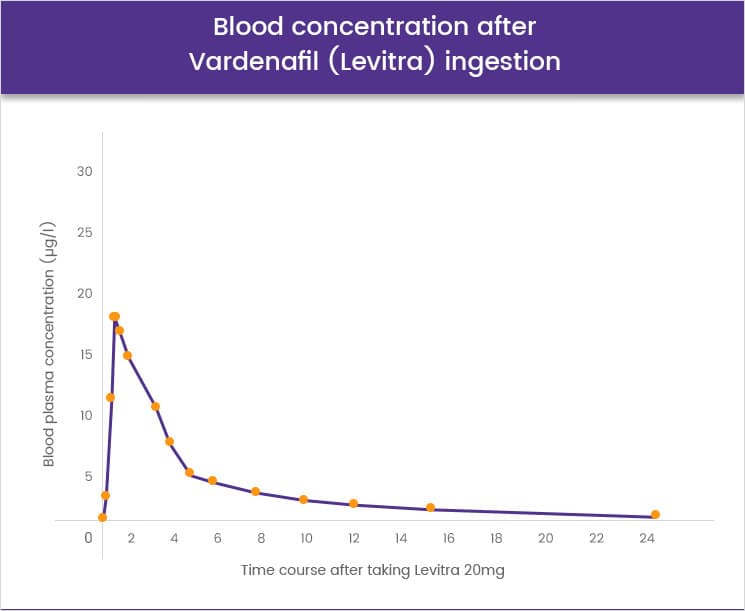 What dosages of Levitra are available?
Levitra (vardenafil) tablets come in several low dosages. The one prescribed to you depends on your individual circumstances and medical history. For the majority of men, the standard dosage of 10mg is sufficient. However, men who have certain health conditions or take particular medications are normally prescribed a lower dosage.
5mg - Recommended for men over 65, as well as those who have side effects.
10mg - This is the standard dose.
20mg - This will be issued should the standard dose prove ineffective.
What are some precautions and interactions to be aware of?
Levitra (vardenafil) can lower the blood pressure and drinking alcohol may increase this effect - leading to light-headedness, fainting and heart palpitations. Talk to your doctor about your alcohol consumption before taking vardenafil. Alcohol can make it more difficult to achieve an erection, it is therefore recommended to always drink moderately.
Patients should also refrain from consuming grapefruit or grapefruit juice whilst taking this medication. Grapefruit decreases the ability of your body to process vardenafil, meaning the drug will enter your bloodstream in a higher concentration, possibly increasing side effects.
For more information about the interactions, please be sure to download our patient leaflet, located towards the bottom of the page. Go to the NHS resources site, which has a lot of valuable information about erectile dysfunction treatments.
What side effects are commonly associated with Levitra?
Many men who choose to buy Levitra tablets rarely experience any side effects and even if they do, they are quite minimal due to low doses. However, everyone is different, and it is always helpful to know of any adverse reactions.
More common side effects include muscle or backache, headaches, indigestion, flushed face/rosacea symptoms, nausea and congestion.
Less common side effects include palpitations, stomach pain, insomnia, and abnormal vision.
As the body becomes accustomed to the treatment, there is a higher chance that these side effects will cease. For further details about the potential side effects of Levitra, please refer to the patient leaflet, which can be found near the bottom of this page.
Can I buy Levitra online?
It is possible to order Levitra in 5mg, 10mg or 20mg dosages online here at HealthExpress by completing a free online consultation. This only takes a few minutes and allows our team of registered UK doctors to assess whether it is the right treatment for you.
With the consultation process only taking an hour from you submitting it to getting your personalised response, you could have your treatment delivered discreetly to your door by tomorrow.