What is Vardenafil?
Vardenafil is a prescription treatment for erectile dysfunction (impotence) which is a generic of the well-known tablet Levitra. It has the same ingredients and same effectiveness as Levitra and is available in the same doses.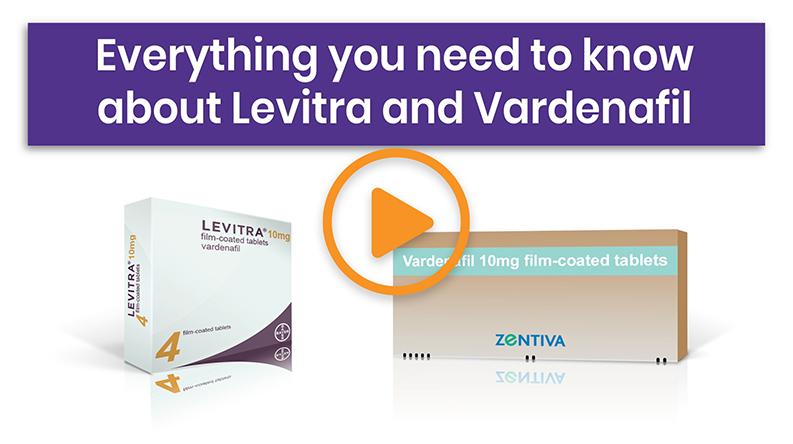 How does Vardenafil work?
Vardenafil increases the blood flow to the penies and helps to achieve and sustain a full erection. For this process it uses the same principle as other PDE-5-inhibitors like Viagra, Cialis or Levitra by inhibiting the release of the chemical PDE-5 which breaks down the enzyme cGMP that relaxes the muscles in the penis and ends an erection, usually only after orgasm.
Complex issues can lead to cGMP being converted too early, causing a short or incomplete erection. Blocking PDE-5 keeps this process from happening at the wrong time and supports a sustained and harder erection.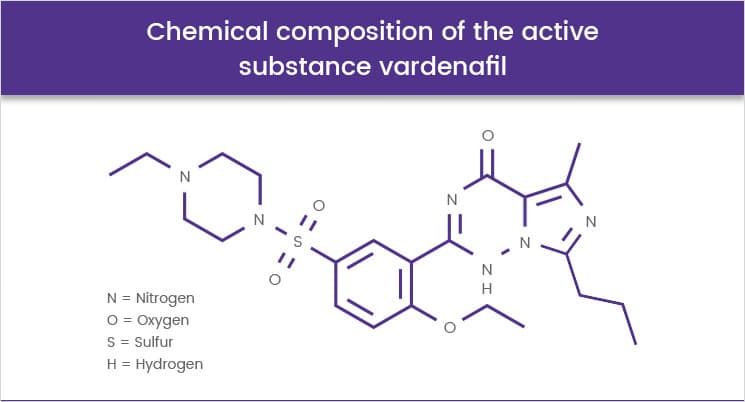 How do I take Vardenafil?
Vardenafil is available in tablet form and should be taken whole and with a bit of water around 30 minutes before intercourse. If the tablet is broken or chewed it might have reduced efficacy. Vardenafil is available in various dosages, so it can be adjusted individually and doesn't need to be broken up. A large meal might reduce or prolong the start of the effect of the medication, so this should be avoided when possible. Similarly, alcohol can have a negative effect on the efficacy of Vardenafil, so the consumption of large alcohol quantities is not recommended.
How long does Vardenafil last?
After the initial effect around 30 minutes after ingestion, Vardenafil will last at full capacity for up to five hours.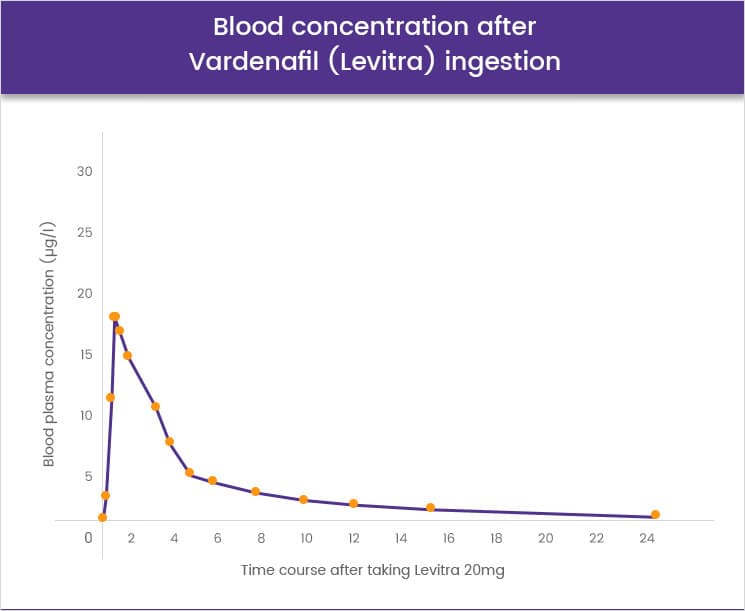 Available Dosages
Vardenafil is available in various dosages to adapt to the individual needs of each patient. The standard dosage of 10mg is deemed as efficient in most cases and should not be increased without prior medical check. The maximum daily dose is 20 mg and can be taken as one tablet, if a 10 mg treatment has been proven as ineffective.
5mg: Recommended dosage for patients older than 65 or with higher risk of side effects.
10mg: Standard dosage for most patients.
20mg: Issued for patients where standard dose proves ineffective
What are some precautions & interactions to be aware of when taking Vardenafil?
Vardenafil should only be used after a consultation with a doctor as it might cause severe side effects. One of the effects of Vardenafil is a lowering of the blood pressure which is compounded by alcohol intake, therefore large quantities of alcohol should be avoided while using Vardenafil. Otherwise light-headedness, fainting and heart palpitations are possible. Alcohol can also make it more difficult to achieve an erection.
Grapefruit and grapefruit juice decreases the ability of the body to process the medication, which can increase the risk of dangerous side effects. All simultaneously used medications should be discussed with the doctor before first usage of Vardenafil, to avoid interactions.
What side effects are commonly associated with Vardenafil?
For most patients Vardenafil is highly tolerable and side effects are infrequent or minimal. The most common side effects of Vardenafil include headache, flushed face and chest, indigestion, nausea and congestion. Muscle or back ache are also possible.
Less common side effects are, among others, palpitations, stomach pain, insomnia and abnormal vision. All known side effects can be found in the patient leaflet for Vardenafil.
Can I buy Vardenafil online?
Vardenafil can be bought online in various dosages via HealthExpress with a prescription from one of our registered doctors. To buy Vardenafil online you only need to fill out our short medical questionnaire which allows our team of doctors to decide which treatment is right for your specifications.
With the prescription forwarded directly to our in-house pharmacy, your treatment can be with you already on the next working day with our free express delivery.
Note: Decisions about treatment are for both the prescriber and the person to jointly consider during the consultation. However, the final decision will always be the prescriber's.