What is Levonelle?
Levonelle is a popular morning-after pill, used to prevent pregnancy for up to three days after unprotected sex or when contraceptive methods have failed.
It is most effective when taken immediately after intercourse. Taken as a single dose, Levonelle contains 1500mcg of the active ingredient levonorgestrel.
If taken within the first 24 hours after unprotected sex, this medication is 95% effective at preventing pregnancy.
Please note - you must order before 4:30 pm (Monday - Friday) to receive next-day delivery. The sooner you take the morning-after pill, the more effective it will be.
How long do I have to take Levonelle?
95% effective if taken within 12 hours of unprotected sex
85% effective if taken between 12- 24 hours of unprotected sex
75% effective if taken between 24- 48 hours of unprotected sex
58% effective if taken between 48- 72 hours of unprotected sex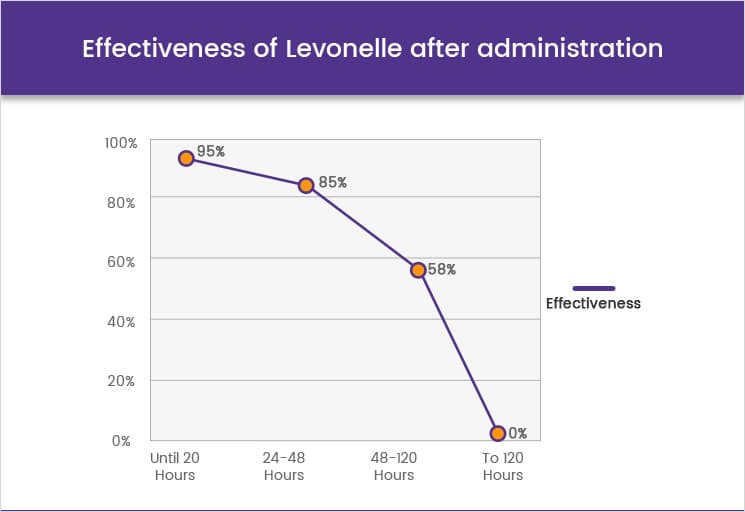 Can Levonelle protect against STIs?
Please note, Levonelle will not protect you against sexually transmitted infections (STIs). Only barrier protection (condoms) will do this.
If you have had unprotected sex and are worried you might have contracted an STI, you should take a test and contact your GP or local GUM clinic.
How does it work?
When an egg is released during the menstrual cycle, your ovaries naturally produce a hormone called progesterone. Progesterone then prevents the release of any other eggs.
The active ingredient of Levonelle, levonorgestrel, produces high levels of synthetic progesterone, convincing the body that ovulation has already occurred. Therefore, no eggs are released for fertilisation.
Levonorgestrel also affects the consistency of the womb's natural mucous, making it thicker and more difficult for sperm cells to enter the womb and fertilise eggs.
Thirdly, the synthetic progesterone in the morning-after pill also prevents the womb lining from preparing to receive a fertilised egg, so if one is released, it won't be able to attach itself to the womb lining as under normal circumstances.
Will Levonelle work if I'm already pregnant?
Levonelle will not prevent an existing pregnancy. Emergency contraceptive pills are a completely different kind of medicine to those used for abortions.
If you have confirmed you are pregnant, or believe you are pregnant, you should not buy this treatment.
Please consult your doctor to explore other options.
How do I take Levonelle?
If uncertain, always follow the advice of your doctor when taking any prescription treatment.
When using this emergency contraceptive, the following usage instructions should be followed:
one tablet should be swallowed with a glass of water as soon as possible after intercourse
pills can be taken at any point during your menstrual cycle
if you vomit or suffer diarrhoea within three hours of taking the pill, contact your doctor immediately as your body may not have fully absorbed the active ingredient
If you are already taking a contraceptive, you should continue using it as normal.
It is also recommended that you use a barrier contraceptive for the remaining duration of your menstrual cycle as an additional precautionary measure.
Emergency contraception can only be used once during a cycle.
What are the possible side effects?
All prescription treatments can cause side effects, especially those with high concentrations of hormones.
Commonly reported side effects include:
headache
abdominal pain
nausea
skin reactions
menstrual cycle changes
One of the more common reactions to emergency contraception is unusual vaginal bleeding and menstrual spotting. This is normal and is not a cause for concern.
Sometimes the morning-after pill can cause your period to begin a few days early or late. You should inform your doctor if your period arrives more than seven days late.
If you experience any significant side effects, such as swelling or difficulty breathing (signs of an allergic reaction), seek immediate medical attention.
What precautions should I take?
There are several conditions that prevent you from using Levonelle. The use of this treatment, when not recommended, may cause dangerous side effects. Please consult your doctor for alternatives.
It should not be taken if:
you have any liver or kidney conditions
you have a disease or any disorder that causes malabsorption
you have an allergy to the synthetic progesterone - levonorgestrel
you have Crohn's disease
It is also important that you mention in your online consultation if you have HIV, TB, epilepsy, or if you are using any fungicidal medications or herbal products containing St John's Wort. All of these may affect the effectiveness of Levonelle, and the doctor may suggest an alternative.
Levonelle should not be taken alongside any other morning-after pills, such as the emergency contraceptive containing ulipristal (ellaOne). It will not have a combined effect. In fact, ellaOne is likely to make Levonelle less effective.
Levonelle can adversely interact with other drugs such as:
some treatments for HIV
tuberculosis treatments
cyclosporin
Griseofulvin treatments for epilepsy
St John's Wort
Levonelle should not be used as a regular method of contraception. If used twice in the same menstrual cycle, Levonelle may not be as effective.
For further information about the precautions and interactions of Levonelle, please refer to the patient leaflet (PIL) provided with your medication. It is also available for download on the right of the page.
Can I buy Levonelle online?
You can buy Levonelle online once you have completed a free online consultation. The consultation only takes a few minutes and allows one of our doctors to determine if the medicine is suitable for you.
If approved, your order will be prepared for next-day delivery from our pharmacy. If it is not approved, an explanation and other options will be given. Delivery is included in the price.
You can buy Levonelle online for future use or an extra pack in case you are worried you may experience stomach upset after the first pill. A maximum of four emergency contraception pills can be bought in a 12 month period.