What is Pulmicort?
Pulmicort is an inhaled steroid treatment, which works to help in the prevention of potential asthma symptoms and serious asthma attacks, by minimising inflammation in the airways. Although it's not a reliever treatment, it can also provide relief from severe asthma symptoms within a couple of weeks of the beginning of treatment.
A Pulmicort Turbohaler is usually used alongside a reliever inhaler such as Ventolin to provide comprehensive asthma management in the long term.
How does the Pulmicort turbohaler work?
The Pulmicort Turbohaler contains the active ingredient budesonide, a type of corticosteroid. These are natural agents produced by the body to moderate inflammation. They do this by preventing the release of chemicals that are produced during an immune system reaction.
These chemicals are what commonly cause inflammation in the airways, making them over-sensitive to irritants that can cause asthma symptoms.
What are the benefits of the Pulmicort inhaler?
The Pulmicort turbohaler is a convenient and effective way to help keep your asthma under control, placing you at less of a risk of experiencing discomfort or even an asthma attack if you come into contact with specific triggers.
The Pulmicort turbohaler also ensures an easy way to deliver treatment to your system, especially if you find it difficult to use aerosol inhalers. This is because it simply requires you to breathe in a powder version after twisting its base, so you don't need to perform too many actions at once. It's also easy to track how many doses of treatment you have left because of a helpful indicator window.
How do I use the Pulmicort turbohaler?
Your Pulmicort turbohaler should be used regularly and your doctor may advise you to use it twice a day, morning and evening. It's very important to learn how to use your Pulmicort inhaler correctly, as the wrong method may result in an incorrect dose being inhaled into the lungs.
Whenever you're unsure about how or when to use your inhaler, it's always recommended to follow the instructions of your doctor.
Do not chew or bite on the mouthpiece, and ensure the inhaler is covered after each use. If another dose is required, just repeat the steps above at least 30 seconds after the initial use. Ensure you repeat your prescription, or buy another course of Pulmicort inhalers in advance before your current device runs out of doses. This is to prevent the need of urgently requiring the medication if there is a need for it and our current device has run out.
Remember to have a regular meeting with your doctor over your use of Pulmicort turbohaler, and ensure you contact your doctor immediately if you feel your condition worsening. As steroids can lower the white blood cell activity in the body, it may become easier to get ill from those around you.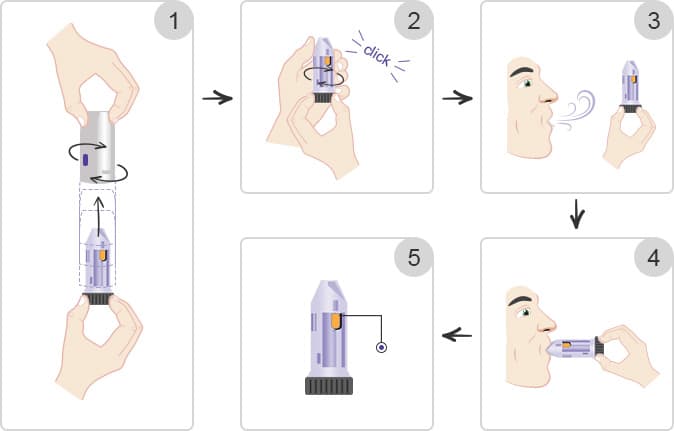 window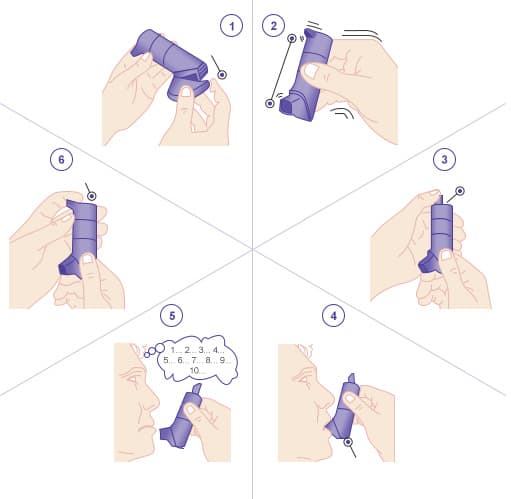 Lever Down
Lever Up
Air Vents
Lever Down
What dosages does Pulmicort come in?
The Pulmicort turbohaler is available in 100mcg, 200mcg and 400mcg doses, and the dose that you're prescribed will depend on the level of your asthma. Generally one to two doses of medication may be recommended, with a maximum dose of 1,600mcg in extremely severe cases. It is important that you only order the dose that has been recommended to you by your doctor, however, if you think you need a higher quantity, it's better to speak to a professional before you alter your dosage.
The online consultation with HealthExpress includes a few questions about your medical history and current condition, so one of our doctors will be able to prescribe you a recommended starting dosage.
Are there any side effects when using Pulmicort?
Side effects with this medication aren't a common occurrence, but they can affect a very small number of people who are susceptible to negative reactions. The most common side effects of using the Pulmicort turbohaler are:
These though can be easily avoided by ensuring that you rinse your mouth out after having used the turbohaler. Some of the more rare side effects could include restlessness, nausea or nervousness. If any of these occur or persist, then ensure you speak to a medical professional as soon as possible.
What are the precautions/interactions of Pulmicort inhalers?
The Pulmicort turbohaler can be safely used by most people for the long-term treatment of asthma. Although, there may be some exceptions as to who can buy this inhaler type, such as if you are allergic to any of the ingredients active in this treatment. Furthermore, if you are having an acute asthma attack, or if you are currently taking mifepristone, you may also be unsuitable.
It's also important that you mention to your doctor if you are or have been:
Pregnant
Breastfeeding
Suffering from tuberculosis or liver problems
Currently have a chest infection or cold.
It's also possible for Pulmicort to interact with steroidal contraceptives, some anti-fungal treatments or some barbiturates, so ideally your inhaler should not be used alongside these treatments.
How can I buy the Pulmicort inhaler online safely?
The Pulmicort turbohaler is available to buy from HealthExpress. However, to ensure that this treatment is the most suitable solution for you, we ask you to complete a free online consultation, which will be reviewed by one of our doctors. After you've been approved, your medicine will be dispensed by our registered pharmacy and shipped for express overnight delivery.