What is Saxenda?
Saxenda is a popular weight-loss treatment that comes in the form of an injection pen. It works by reducing appetite, helping you to maintain a healthy lifestyle.
It is prescribed to obese patients with a body mass index (BMI) of more than 30 or for patients with a BMI of 27 or more if they already show weight-related medical problems (e.g. high blood pressure, type-2 diabetes, high cholesterol ).
Saxenda is most effective 11 hours after being administered. You can expect to see results from two weeks, to 9 to 12 months. However, it is important that you also combine this medication with a reduced-calorie diet and increased physical activity.
When you buy Saxenda online from HealthExpress, your order will include both sharps (injection pens) and a bin.
How does it work?
Losing weight is a simple yet challenging process. You need to burn more calories than you consume. The best way to achieve this is by reducing your appetite. Saxenda allows you to eat less and exercise more, without overfeeding.
Saxenda contains the active ingredient 'liraglutide' - this is a synthetic version of a naturally occurring hormone, GLP-1.
GLP-1 controls appetite and calorie intake. By binding to and activating the GLP-1 receptor synthetically, Saxenda helps regulate appetite. The result is you feel the need to eat smaller portions, less frequently.
It is important that you also exercise regularly. Even though you may not feel as hungry whilst using Saxenda, a poor diet and routine can still lead to a calorie surplus. If you are unsure whether or not your lifestyle is healthy, you should speak to your doctor - they will be more than happy to advise you.
How do I use it?
Always follow the advice of your doctor when using any medication. Complete details are also listed in the patient information leaflet (PIL).
For a demonstration, please see the video >
The following is a brief summary of how to use Saxenda:
use this treatment once daily, at around the same time
injections are subcutaneous; find an injection site in the abdomen, thigh or upper arm
the injection needle should be discarded after every injection
the pen should be stored without a needle to prevent contamination
do not make injections into muscles or veins
the solution should be stored in the refrigerator (2°C - 8°C). However, it must not be frozen, so should not be stored near or in the freezer compartment
How much should I inject?
Saxenda is administered with a multi-dose injection pen. The pen can deliver doses of 0.6 mg, 1.2 mg, 1.8 mg, 2.4 mg or 3 mg.
The initial dosage in the first week is 0.6 mg, which is then increased by 0.6 mg every following week until the recommended dosage of 3 mg is reached. Once you are taking the 3-mg dose, each pen should last six days. There is a table contained in the PIL that will make this easier to follow.
Please note - if you have not lost at least 5% of your initial body weight after 12 weeks of using the standard dose of 3 mg per day, the treatment should be discontinued. At this point, you should discuss alternative treatments with your doctor.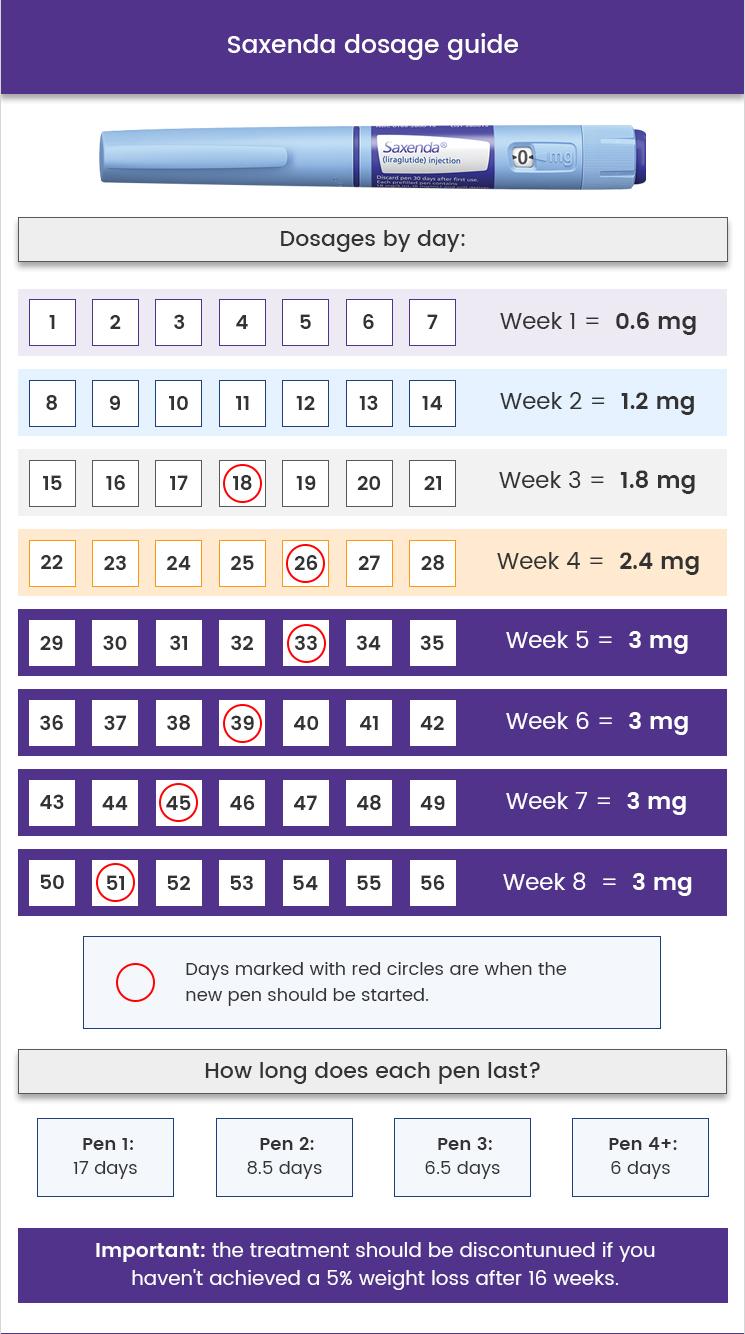 What are the possible side effects?
Like any treatment, Saxenda can cause adverse effects.
The most common include:
nausea
diarrhoea
constipation
headache
gallbladder complications (e.g. gallstones)
digestion concerns
dry mouth
vomiting
Nausea is more likely at the beginning of treatment but usually decreases as the body adapts. Due to the mode of application, there can also be local reactions at the point of the injection. This may include rash, erythema (redness) and pruritus (itching).
If you experience any distressing or long-lasting reactions, please stop treatment and contact your doctor.
You should seek immediate medical help if you suffer an allergic reaction. Symptoms include breathing difficulties, rashes and swelling of the face and throat.
Who can use it?
To use Saxenda, you must have a BMI of over 30 or over 27 (with additional health concerns).
If you are uncertain of your BMI, there are several online tools that can help. Alternatively, for an accurate assessment, please contact your GP.
There are a number of conditions that will make the use of this treatment dangerous:
diabetic gastroparesis
inflammatory bowel disease
severe congestive heart failure
you have an allergy to its ingredients
You should speak with your doctor about alternative weight loss medications if you suffer from any of the above.
What precautions should I take?
You should be extra cautious about experiencing reactions if you have any thyroid problems.
You should speak with your doctor before starting this treatment if you have any serious stomach or gut problems, or problems with your pancreas.
Do not use this treatment if you are pregnant or breastfeeding. It is not known if the ingredients can pass into breast milk.
If you have diabetes, do not use this treatment to replace your regular dose of insulin.
There is currently no evidence on the effects of this medication on those over the age of 75. If you are over 75, you should seek alternative treatment.
Can I buy Saxenda online to treat obesity?
You can buy Saxenda online from HealthExpress. It always pays to be careful when buying any treatments online. That is why we stress the importance of our consultation process. One of our in-house doctors will personally consider both your symptoms and past medical conditions before recommending a treatment.
Saxenda requires a prescription. Fortunately, HealthExpress provides a quick and easy prescription service, as well as speedy delivery that can have your treatment at your front door the very next day.
We adhere to the strictest medical and legal practices – our first priority is to your health. We are fully CQC-approved, our medical team is GMC-registered, and all treatments are shipped from a UK pharmacy. Plus, our team of UK-based doctors are specialised in fields relevant to the treatments we offer.