What is Serevent?
Serevent contains the active ingredient salmeterol which works to effectively manage and prevent the symptoms of asthma in the long-term. Serevent is most useful in helping to prevent breathing problems and asthma attacks. Known as a bronchodilator, the active ingredient, salmeterol (a form of medicine), can be taken through an Evohaler, Accuhaler or Diskhaler. These devices can be used as an add-on treatment alongside other inhalers, such as corticosteroids, but should not be used as a substitute for such medications. Serevent is a long-lasting preventative treatment, and so should not be used to relieve sudden asthma attacks.
How does Serevent work?
The active ingredient in all Serevent inhalers, salmeterol is a long acting beta 2 agonist, which means it works on the beta 2 receptors in the lungs. Salmeterol stimulates these receptors, relaxing the muscles in the airways and allowing them to become relaxed and more open.
In asthma and COPD patients, this will help alleviate breathing problems. As well as this, because of the long lasting nature of salmeterol, it will also help to prevent future asthma attacks, wheezing, shortness of breath, and chest tightness. The treatment gets to work within 10-15mins of use and can be active for up to 12 hours in the body.
What types of Serevent treatment are available?
Serveant Accuhaler: This is a dry powder inhalation device that contains blisters, each containing 50 micrograms of salmeterol. This device requires aerosol inhalation, which is done by opening the lever and placing the mouthpiece in your mouth in order to inhale the dose.
Serevent Evohaler: This is a CFC-free metered aerosol dose inhaler, which contains 25 micrograms salmeterol. Like the Accuhaler, this device requires aerosol inhalation, which is done by placing the mouthpiece in your mouth and inhaling.
Serevent Diskhaler: This is a dry powder inhalation device that also contains a blister pack. Every time you inhale, the device loads the blister pack. This device contains 50 micrograms per dose inhalation powder.
What are the benefits of Serevent?
Serevent inhalers come with a number of benefits that can be experienced when used correctly. These are:
Serevent is effective in treating conditions that involve any sort of narrowing of the airways. The main condition is asthma, but it also can be used to treat chronic obstructive pulmonary diseases (COPD) such as emphysema and chronic bronchitis.
As well as its proven effectiveness, Serevent is an inhalation medication, which means that it gets to work quickly and exactly where it is needed most.
The active ingredient, salmeterol actually doesn't work as fast as some other inhalers but it keeps the airways open for longer, making it an important medication for the prevention of asthma attacks.
Serevent inhalers are particularly useful for preventing shortness of breath caused by exercise, and for being taken before going to bed, to prevent shortness of breath that can prove to be worse at night.
Serevent inhalers are FDA approved, and have proven in clinical studies to be highly effective in improving breathing, and preventing asthma attacks in the long-term.
What are the differences between the Serevent inhalers?
Serevent is available as 3 different devices, all containing the same active ingredient salmeterol. The type of inhaler you are prescribed depends on how severe your asthma is and how effective other asthma-related medications have been for you, up to this point.
Evohaler
The Evohaler is the most commonly prescribed version of Serevent. It is a CFC free aerosol inhaler containing 25mcg of salmeterol per dose. This dosage will be prescribed mostly as an add-on treatment in patients whose asthma is not controlled by inhaled corticosteroids alone.
Diskhaler
Serevent Diskhaler is a dry powder inhaler containing 50 mcg of salmeterol and lactose. It is frequently used in asthma sufferers who use inhaled corticosteroids but also require a long-acting beta agonist to treat the symptoms effectively.
Accuhaler
Like the Diskhaler, Serevent Accuhaler also comes in a dry powder inhalation device, but contains a dosage of just 50mcg of salmeterol. It is used to treat asthma in patients who need a long-acting beta agonist.
How to use Serevent?
For a preventer inhaler such as Serevent, one inhalation is required twice daily. If necessary, the dosage may be increased to two inhalations twice daily, but always check with a doctor before making any adjustments.
Serevent Evohaler :
This evohaler works as a standard inhaler and is effective when used correctly. This inhaler requires co-ordination whilst pressing down on the cannister. To use this inhaler type:.
Take the cap off the inhaler mouthpiece.
Hold the inhaler upright and shake the inhaler vigorously up and down.
Breathe out normally as far as you comfortably can, then hold the mouthpiece between your lips.
At the same time as you first start to breathe in, press the top with your finger to spray the medicine.
Remove the inhaler from your mouth and hold your breath for as long as you can and then breathe out slowly.
If you need more than one dose, start again from step 2.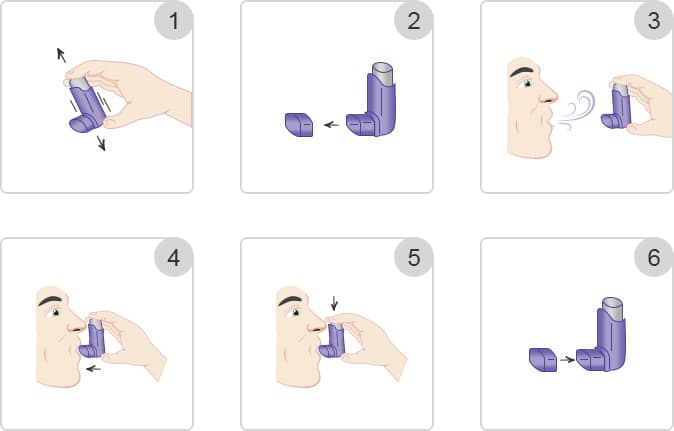 After you finish using the inhaler, ensure you always replace the mouthpiece cover to prevent any fluff or dust from entering.
Serevent Accuhaler:
Serevent accuhaler works in a slightly different way to the standard evohaler as it releases a dry powder form of the medication into the lungs and should be used once in the morning and once at night.. To use this inhaler type:
Open the accuhaler by pushing the thumb grip found at the side of the device until it clicks.
With the mouthpiece visible, hold the accuhaler towards your mouth and press the lever until it stops
Breathe out as much as you can and place the mouthpiece on your lips, then breath in deeply and steadily through the accuhaler (not your nose)
Remove the accuhaler and hold your breath for around 10 seconds so that the medication can circulate properly in the lungs, then breathe out slowly.
Close the accuhaler after use, placing the thumb grip to its original position. The dose counter should show you how many doses are left to use
Step 1. Open

Holding your Accuhaler in one hand. as shown. place the thumb of your other hand.
Open your Accuhaler by pushing the thumb grip right around until it clicks.
The mouthpiece should now be fully visible (see photo in step 2).

Step 2. Slide

You'll also see the lever.
Hold the mouthpiece towards you and push the lever away from you until it stops.
The number in the dose-counter window will be reduced by one.

Step 3. breathing out

Breathe out as much as possible.

Step 4. Inhale

Put the mouthpiece to your lips.
Breathe in steadily through your Accuhaler (not through your nose).
Remove your Accuhaler and hold your breath for about 10 seconds.
Breathe out slowly.
Rinse your mouth with water after using your Accuhaler.

Step 5. Close

Close your Accuhaler by sliding the thumb grip back to the original position.
This makes your Accuher ready to use again next time.
The dose counter on the top of the Accuhaler show how may doses are left to use.

Step 6. Rinse

After use, rinse mouth with water.
This will reduce the chances of any irritations.
If an asthma attack has already begun then you cannot use the Serevent inhaler and would need a reliever inhaler such as Ventolin to provide effective relief.
The full benefits of Serevent inhalers will usually become apparent after several doses of the medication. The inhalers can be used in a standing or sitting position. The inhaler should always be used in a level, horizontal position, when activated and used.
What are the side effects of Serevent?
The side effects associated with Serevent inhaler is usually minimal, as it is not used too often. As with all prescription medication though, there might be certain side effects experience, which include:
Headaches, insomnia, nausea, throat irritation, an upset stomach and muscle cramps.
It is important to know that these side effects only affect some people and you may use this medication without experiencing any side effects at all. Serious side effects, such as an irregular heartbeat, chest pain, and fainting, are very rare and highly unlikely to occur. If any of these potential side effects persist, you should seek immediate medical attention from a doctor.
What precautions should I take with Serevent?
There are a number of precautions that must be considered before choosing to buy Serevent inhalers. These include:
Serevent inhalers mustn't be used if you are allergic to salmeterol or milk proteins.
You should inform a doctor if you are looking to use Serevent inhalers whilst dealing with a food or drug allergy, heart disease, high blood pressure, epilepsy, diabetes, a thyroid disorder (e.g. an overactive thyroid), or liver disease.
Serevent inhalers should be used with caution when taken during pregnancy, or whilst breastfeeding.
Older adults using Serevent inhalers may be more sensitive to the side effects associated with the treatment.
Serevent shouldn't be used to treat sudden heart attacks, wheezing, or breathlessness because it won't work fast enough.
How can I buy Serevent online safely?
Serevent asthma inhalers can be ordered online from HealthExpress by completing a quick and simple online consultation. Your consultation will be reviewed by one of our doctors, who will assess your suitability and once approved will provide a prescription to our pharmacy who can have your inhalers delivered to you within 24 hours.
By ordering online, and with us, you will receive the following benefits:
No face-to-face appointments required
Quick delivery - next day when ordered prior to 4pm
Avoid long queues for waiting rooms and pharmacies
Get your prescription delivered to your workplace or shared accommodation
All medication is approved by UK qualified doctors