What is Spedra?
Spedra is the newest of the erectile dysfunction treatments available on the market. It contains the active ingredient avanafil and treats impotence in the same way as other medications in its class, by increasing blood flow to the penis, making it easier to both achieve and sustain an erection.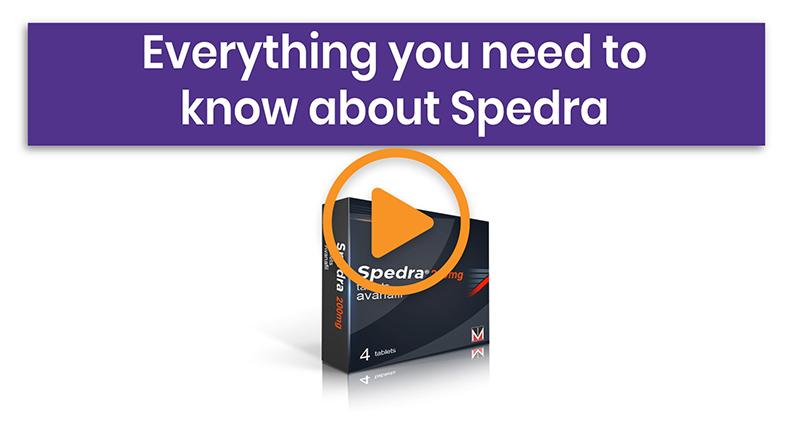 When compared to some of the other erectile dysfunction remedies available, Spedra (avanafil) gets to work very quickly and highly effectively. Clinical studies have shown that most men who purchase Spedra (avanafil) tablets will experience an erection in approximately 15-30 minutes after use, providing they are sexually stimulated.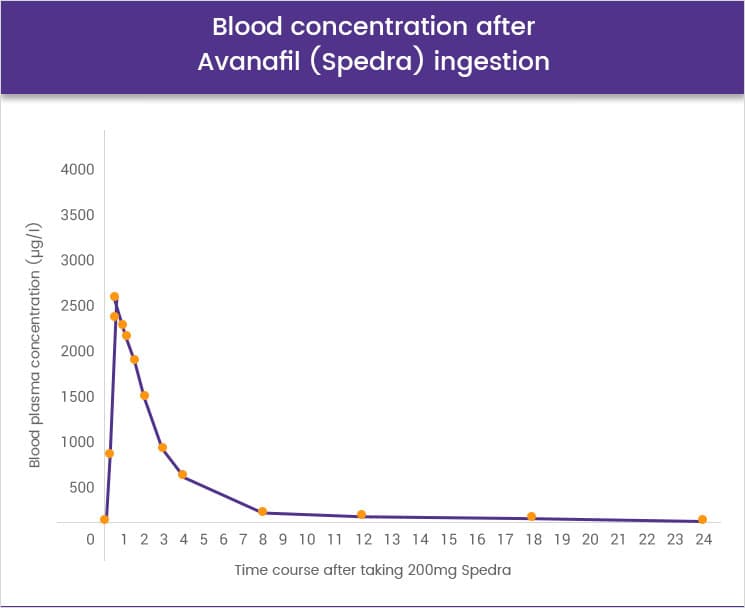 What are the benefits of using Spedra?
Although Spedra influences the body in essentially the same way as Viagra, Cialis or Levitra, it offers an alternative to men who may have been more sensitive to the active ingredients in these remedies.
Unlike these earlier medications, Spedra tablets are unlikely to cause visual or hearing disturbances as a side effect.
Treating erectile dysfunction could have a significant increase to your sexual satisfaction, self-esteem and self-confidence.
How does Spedra (avanafil) work?
Spedra pills contain the active ingredient avanafil, which works by inhibiting an enzyme known as PDE-5 (phosphodiesterase type 5) so that blood vessels in your penis can widen. This is because the muscles surrounding the blood vessels in the penis are prevented from becoming tight. Spedra, therefore, improves blood flow to the penile tissues, so that a man is able to gain an erection when he is suitably sexually aroused. It normally takes 15 to 20 minutes for Spedra tablets to take effect.
How do I take Spedra (avanafil)?
Your Spedra pill should be taken as and when you need it, ideally 30 minutes before sex, although most men reported a change in their condition in as little as 15 minutes. Additional notes include:
What dosages of Spedra are available?
Spedra tablets comes in three dosages: 50mg, 100mg, 200mg. It is most likely that you will begin your treatment on the middle dosage of 100mg, and then that may change depending on your own individual experience. For example, if you find you are unable to maintain a strong erection for a satisfactory duration of time, then you can talk to our customer service team about possibly increasing your dosage. The 50mg dosage is usually given to men who have had side effects when taking the larger quantities.
50mg - For men who are prone to or have experienced side effects
100mg - This is the recommended starting dose
200mg - This can be suggested if the standard 100mg Spedra dosage has not proven to be effective enough
What precautions/interactions should I be aware of when taking Spedra?
Most men with erectile dysfunction can take Spedra capsules, however, similarly to other PDE-5 inhibitors, you may not be able to take it if you are currently using certain types of other medication. These treatments or substances include nitroglycerin, isosorbide mononitrate, amyl nitrate (poppers) or nitrate medications to treat chest pain.
You may also be unable to buy this treatment, or may be required to take a lower dose if you have liver disease, kidney disease or if you have been advised by your doctor to not have sex. If you are allergic to the active ingredient avanafil it may be dangerous to use this treatment. You should also avoid drinking grapefruit juice prior to taking your avanafil dosage.
Watch out for any allergy to Avanafil - speak to your GP
Avoid using any form of nitrates when taking Spedra tablets - they can affect arteries, leading to extreme low blood pressure
Avoid grapefruit before taking Spedra as it can dramatically affect blood pressure
Make sure you keep to your correct dosage - taking more pills will not make it work any faster
What side effects are associated with Spedra?
Spedra tablets are unlikely to cause side effects, but some people may experience facial flushing or nasal congestion, which are the most common side effects. If you experience anything more serious or if these side effects persist, you should speak to your doctor.
For more information about erectile dysfunction treatments, please refer to the NHS website , as well as the Spedra (avanafil) patient leaflet as provided below.
How can I buy Spedra tablets online?
To buy Spedra online in the UK with HealthExpress, all you need to do is fill out our free online consultation. This only takes a couple of minutes and allows our doctors to assess your medical history, decide if Spedra (avanafil) is the best treatment for you, and tailor your prescription ready for express dispatch from our pharmacy. Since free next day delivery is included with your treatment, you will receive your Spedra 50mg, 100mg or 200mg medication as soon as tomorrow, discreetly delivered to your door in plain packaging.
Note: Decisions about treatment are for both the prescriber and the person to jointly consider during the consultation. However, the final decision will always be the prescriber's.