What is Cialis?
Cialis ('the weekend pill') is a prescription medication that helps men with erection problems. Since being introduced to the market in 2003, it has become one of the most successful ED treatments. This is due to its prolonged effects. Unlike other erectile dysfunction pills such as Viagra and Levitra, which require planning and rule out spontaneous intercourse, Cialis allows patients to achieve an erection over a longer time-frame (up to two days).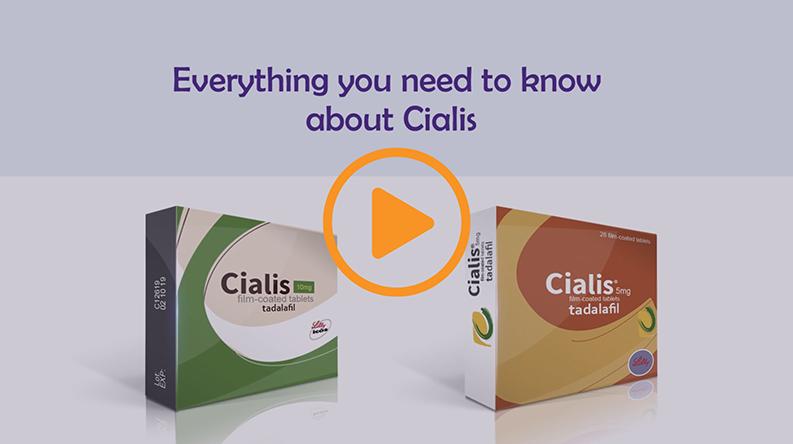 How does this treatment work?
Cialis is classified as a PDE-5 (phosphodiesterase type 5) inhibitor which works by relaxing the blood vessels in the penis. This enables better blood flow, making it easier to achieve and sustain a fuller, firmer erection. It works in as little as 30 minutes with effects lasting for up to 36 hours.
What dosages are available?
The dosage recommended will depend on several factors, including the severity of your impotence, possible drug interactions, your age and any prior experience you've had with ED medications. Our doctors will take these factors into account when you buy Cialis from us.
The starting dose is usually 10 mg, which is effective for the majority of users
The 20mg dose is usually recommended if 10mg has not proved potent enough and if no side effects have been experienced
How do I take Cialis?
A pill should be taken with water, either on an empty stomach or after a meal - at least 30 minutes before sex. It will continue to work for up to 36 hours, but will only support blood flow to the penis when you are aroused.
Can this medication be taken with food and alcohol?
Cialis is a very user-friendly medication that can be taken with a meal and even a small amount of alcohol. However, it is advised not to drink heavily when using this medication, as this may heighten the possibility of side effects occurring (e.g. headaches, dizziness and changes in blood pressure).
Can I buy Cialis online?
Yes. You can buy Cialis from HealthExpress today, and if it is approved for your use by one of our in-house doctors, we'll dispatch it with next-day delivery. All you have to do is fill out a quick and confidential consultation that will detail your condition and medical history.
Our service has all the relevant and mandatory safety certificates from official regulatory bodies, including the Care Quality Commission (CQC), Medicines & Healthcare Products Regulatory Agency (MHRA), General Medical Council (GMC) and the General Pharmaceutical Council (GPhC).
What are the common side effects?
Common or very common
Flushing; gastrointestinal discomfort; headaches; myalgia; nasal congestion; pain.
Uncommon
Arrhythmias; chest pain; dizziness; dyspnoea; eye pain; fatigue; gastroesophageal reflux disease; haemorrhage; hypertension; hypotension; nausea; oedema; palpitations; skin reactions; tinnitus; vision disorders; vomiting.
Rare or very rare
Acute coronary syndrome; angioedema; cerebrovascular insufficiency; eye erythema; eye swelling; haematospermia; hyperhidrosis; memory loss; optic neuropathy (discontinue if sudden visual impairment occurs); priapism; retinal occlusion; seizure; Stevens-Johnson syndrome; sudden cardiac death; sudden hearing loss (discontinue the drug and seek medical advice); syncope.
What are some contraindications to be aware of?
If you suffer (or have suffered) from any of the below, you should consult with a doctor and consider a different treatment:
Multiple myeloma; leukaemia; sickle cell anaemia; increased risk of bleeding due to clotting disorder; an increased risk of bleeding; alcoholism; pigmentary retinopathy; hearing loss; high blood pressure; angina; narrowing of the aortic heart valve; hypertrophic cardiomyopathy; life-threatening irregular heart rhythm; chronic heart failure; a stroke; low blood pressure; a stomach ulcer; liver problems; severe renal impairment; mild to moderate kidney impairment; Peyronie's disease; fibrous tissue formation in the penis; seizures; a sudden vision loss due to loss of the blood supply to the front of the optic nerve; restrictive cardiomyopathy.
What are some common myths surrounding Cialis?
As with all popular medications, there are many inaccuracies surrounding the use and effects of Cialis. For example:
These are just three of many myths. It is important to fully understand any medication you are using.
When can I expect delivery?
All treatments ordered with HealthExpress come with free express delivery. We understand it's important for you to receive your medication promptly, which is why we dispatch from our UK-based pharmacy as soon our doctors have approved your purchase.
What are some alternative ED medications?
Cialis is only one of many medications, all of which have different effects. You may find there is an option that better suits your situation. HealthExpress offers a comprehensive range of treatments including, but not limited to Viagra, Viagra Connect, Spedra and Levitra. If you do choose to buy Cialis, our doctors will ensure it is safe for your use.