What is Cialis?
Cialis, also known as the "weekend pill", is a medication that assists men who have difficulties getting erections. Its long-lasting and quick effects made it popular when it was released in 2003. Other ED pills require more planning, but Cialis permits patients to remain spontaneous.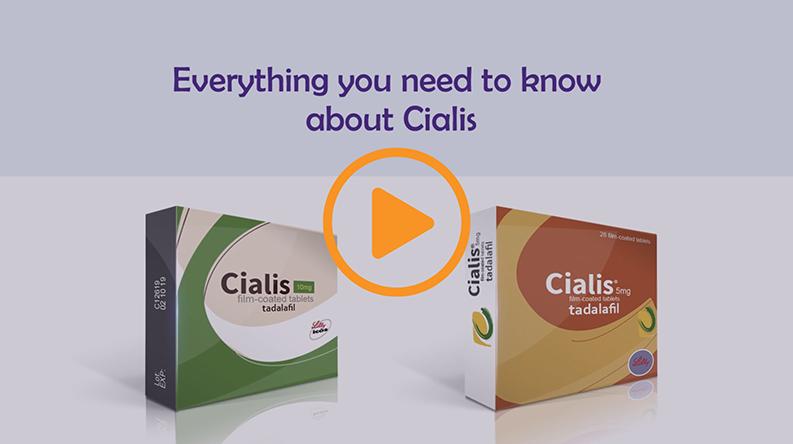 How does Cialis work?
The most common cause of impotence is limited blood flow to the penis. Cialis, therefore, promotes more blood flow to the penis. More blood flow means a fuller, firmer erection.
It contains tadalafil. Tadalafil is a type of medicine known as a PDE-5 inhibitor. It works by helping to increase the levels of certain chemicals that help the blood vessels relax. This allows more blood flow into the penis, helping you get and keep an erection.
Cialis is much faster acting than most other erectile dysfunction medications, working in as little as 30 minutes. Not to mention, the effects can last up to a full 36 hours.
What dosages are available?
Cialis is available in two different doses.
The usual and best starting dose for most men is the 10mg dose. This is so you can easily adjust your dose.
If you find that the 10mg dose doesn't work for you, you can increase your dose to 20mg.
How do I take Cialis?
You should take one Cialis tablet at least 30-60 minutes before sexual activity. However, if you don't need it straight away, the effects last up to 36 hours after taking it.
Each tablet should be swallowed whole with some water. Do not crush, split or chew tablets.
You must be sexually aroused for the medicine to work.
Do not take the 10mg or 20mg doses daily. Only take them as and when you need them. Cialis Daily is available for those looking for continuous treatment.
If you take more than you should, contact your doctor as soon as possible.
Can this medication be taken with food and alcohol?
Although you can take Cialis with or without food, you should avoid eating heavy meals beforehand as this can reduce the effects of the medicine.
You should also avoid drinking alcohol with this medicine. Alcohol can affect your ability to get an erection and may increase your risk of side effects.
What are some common side effects?
Like all prescription medicines, this medicine can cause some side effects. Thankfully, the most common side effects are mild and often go away without treatment.
Because you only take it when you need it, the risk of side effects is lower than other medicines.
Regardless, it's still important to know the potential side effects so you know what to expect if they occur.
Common or very common
facial flushing
stomach discomfort
headaches
muscle pain
nasal congestion
Uncommon
irregular heartbeat (arrhythmia)
chest pain
dizziness
shortness of breath
eye pain
tiredness
blood pressure changes
nose bleeds
swelling (oedema)
palpitations
skin reactions
ringing in the ears (tinnitus)
vision problems
vomiting
Rare or very rare
Serious side effects are rare. However, if you experience any worrying side effects, consult your doctor as soon as possible.
serious heart problems
any swelling
serious eye problems or pain
limited blood flow to the brain
blood in semen
excessive sweating
memory loss
a prolonged erection (priapism)
seizures
sudden hearing loss
fainting
Please refer to the patient information leaflet for a complete list of side effects.
Who can and can't take Cialis?
Whilst generally a safe medication for most men, you should always check with your doctor if you have any other medical conditions before taking this medicine.
If you have any of the following conditions, do not use it without consulting a doctor:
a problem with your blood
alcoholism
any eye or vision problems
hearing loss
heart problems
a recent stroke or heart attack
low or high blood pressure
a stomach ulcer
kidney or liver problems
a condition of the penis (e.g. Peyronie's disease)
a condition that causes seizures
You should also be cautious if you take other medicines, as they may interact.
Be mindful if you take any of the following:
high blood pressure medicines
medicines for an enlarged prostate
certain antifungal medicines
anti-seizure medicines
certain antibiotics
Do not take Cialis and other ED medicines together, as this will not improve your impotence and may put you at a higher risk of adverse effects.
If you're unsure whether you fall under any of these groups, consult your doctor before taking this medicine.
What are some common myths surrounding Cialis?
There are many misconceptions surrounding ED treatment that can discourage men from getting the help they need.
For example:
These are just three of many myths about Cialis and other ED treatments.
What are some alternative ED medications?
The good thing about ED medicines is that if you find that one doesn't work for you, there will likely be a suitable alternative.
There are several other prescription medicines from the same family that work in the same way.
Other medicines like Cialis include:
Can I buy Cialis online?
"
Yes, you can buy Cialis online from HealthExpress today. All you have to do is fill out our quick online consultation process. If approved for use by one of our in-house doctors, we'll dispatch it with free next-day delivery.
We aim to maintain a high standard of service, and our top priority is your health and well-being.