What is Symbicort?
Symbicort Turbohaler is an inhaled preventative treatment for asthma and contains two active ingredients to help effectively minimise the risk of asthma symptoms and attacks. It contains budesonide which is a type of steroid that actively helps minimise inflammation and formoterol fumarate dehydrate which helps to widen and relax airways to ease breathing. This treatment will usually be recommended to be used alongside a reliever treatment such as Ventolin, but it can be prescribed as a treatment on its own.
Symbicort is also used for individuals dealing with severe COPD (Chronic obstructive pulmonary disease), who have repeated attacks of breathlessness, despite regularly using long-acting bronchodilators (e.g. formoterol or salmeterol). For patients suffering COPD the recommended dose is Symbicort 160/4.5, a dosage that is not available to buy on HealthExpress. The turbohaler has to be used twice a day with two inhalations each. Please seek advice from our doctors if you want to use one of the Symbicort dosages available at HealthExpress to treat COPD to ensure suitability.
How does Symbicort work?
The Symbicort turbohaler contains two active ingredients that work in two ways to effectively manage asthma.
Budesonide
Budesonide, a corticosteroid, is a type of steroid that's also found in the preventer inhaler Pulmicort. It helps to prevent inflammation of the airways, therefore making the throat and lungs less sensitive to irritants that could provoke a further immune response. This prevents the causes of attacks from occurring.
Formoterol fumarate dehydrate
Formoterol fumarate dihydrate is a long-acting beta 2-adrenoceptor agonist, also known as a bronchodilator. It acts on the beta-2 receptors in the lungs, which helps the muscles in the airway to relax and widen, allowing air to flow more freely. This avoids contractions, which can lead to breathing difficulties.
What are the benefits of using Symbicort?
You can experience a variety of benefits when using Symbicort turbohalers. These are:
Symbicort helps to open-up and relax airways for almost 12 hours, while it also reduces inflammation in the airways.
Apart from treating asthma, Symbicort can also effectively manage chronic obstructive pulmonary disease.
You can buy Symbicort as your sole asthma treatment, because it provides the benefits of a reliever as well as a preventer. However, it can also be used as a preventer treatment alongside a reliever inhaler such as Ventolin.
Symbicort minimises the need to use oral steroids.
When using this treatment daily, patients are less likely to suffer from asthma attacks when doing exercise, or during times of pressure or stress.
As Symbicort is a single turbohaler, it can simplify treatment for people who are already using both a corticosteroid inhaler and a long-acting bronchodilator inhaler
Who can use Symbicort?
Symbicort can be prescribed as a treatment to prevent instances of breathlessness and asthma, either on its own or alongside a quick relief inhaler. It's important that it should not be used if you are allergic to either of its active ingredients. You should also take care when using this medication if you are diabetic, or if you have a lung infection, high blood pressure, thyroid problems, liver problems or high levels of potassium in your blood.
Some medications may interact with the active ingredients in Symbicort, so mention any medicine you are taking during your doctor's consultation, especially if you are using beta-blockers or diuretics.
How to use a Symbicort turbohaler?
You can buy the Symbicort turbohaler in three doses, 100mcg (budesonide) / 6mcg (formoterol fumarate dehydrate), 200mcg / 6mcg and 400mcg / 12mcg. How you use the dosage will depend on whether you are using it in a preventative sense, or if you are using it as your only inhaler, meaning it acts to prevent and relieve symptoms.
Two inhalations twice a day is recommended for everyday treatment of asthma. However, should you experience a sudden asthma attack, you can use your reliever inhaler or your Symbicort turbohaler for immediate relief. To use Symbicort for the relief of symptoms, take one inhalation when needed, wait a couple of minutes and then take another. Don't use more than six doses in one instance.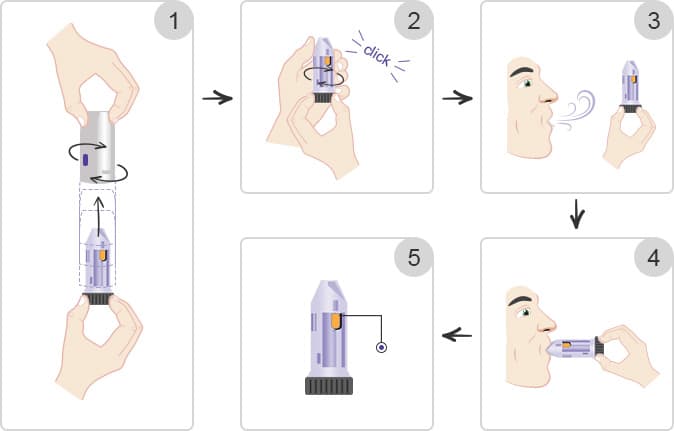 window
What are the side effects of Symbicort?
Side effects while using Symbicort aren't a big risk, but they can occur. The most common side effects may include:
Heart palpitations
Oral thrush
Mild sore throat or hoarseness
Headaches
These are luckily not serious and effects like oral thrush could be easily avoided, by ensuring that you rinse your mouth after using the treatment. You should seek immediate medical help if you do experience anything more serious.
What precautions should I take with Symbicort?
There are a number of precautions that must be considered before using Symbicort turbohalers. These include:
It is important to talk to a doctor if you are allergic to any of the ingredients found in Symbicort.
Symbicort should be used with caution if you have a history of (or are currently dealing with) conditions, such as tuberculosis, herpes, high blood pressure, heart disease, liver disease, diabetes, or an overactive thyroid gland
This medication can mask signs of infection, therefore it is vital to wash your hands thoroughly, to prevent the spread of infection
You should talk to a doctor if you intend to use Symbicort inhalers when you are due to have a surgery
Older individuals may be more sensitive to the side effects of Symbicort
Symbicort turbohalers should only be used during pregnancy when absolutely required. This should be discussed with a doctor
How can I buy Symbicort online safely?
Symbicort turbohalers can be ordered online from HealthExpress by simply clicking on the link below, to begin your quick and simple online consultation. Your consultation can then be reviewed by one of our doctors, who will assess your suitability, regarding the severity of your particular set of symptoms and the dosage currently available. If your consultation is approved, you will be able to purchase this medication, safely and securely and can receive it the next day through our free courier delivery service.