What is Tadalafil (generic Cialis)?
Tadalafil is the generic form of Cialis and therefore contains the same active ingredient as the brand medication. Since the patent on Cialis, owned by Lilly, has expired, pharmaceutical producers have been able to introduce the active ingredient Tadalafil for the treatment of erectile dysfunction under generic brand names.
Due to lower research and clinical trial expenses for generic manufacturers, Tadalafil can be sold at lower prices than Cialis, which is the main difference between the branded and unbranded treatment. Although both medications should not differ in their effectiveness to treat symptoms of impotence, there might be slight differences in the composition of pharmaceutical additives which may affect the tolerance of the medication.
Tadalafil is a PDE-5 inhibitor which works in the same way as other erectile dysfunction medications. One of the main reasons Tadalafil is so popular is because it starts to work within 30 minutes and can last for up to 36 hours. This makes Tadalafil PDE-5 inhibitor with the longest lasting effects on the UK market. Due to its lasting effectiveness, Cialis is commonly referred to as the Weekend Pill.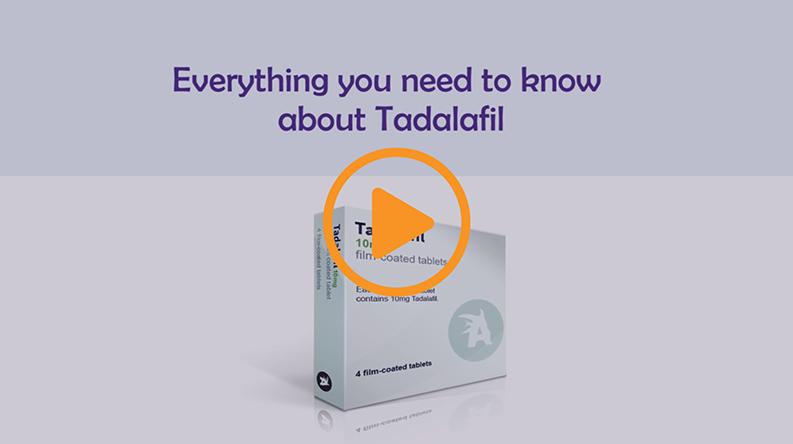 Erectile dysfunction, also known as impotence, can have varying causes ranging from physical issues such as insufficient blood flow to psychological reasons including stress, anxiety or lack of sexual interest.
Tadalafil is a prescription only medication and as such can only be dispensed by a registered pharmacy with a doctor's prescription. It is mainly prescribed to men struggling with erectile dysfunction, but can also bring relief for men with prostate gland enlargement. Its lowest dose may be suitable for men with existing conditions such as high blood pressure. Although it cannot treat psychological causes for impotence, the drug may help break a cycle of performance anxiety.
Benefits of Tadalafil
The primary benefit of Tadalafil is to help gain and sustain an erection, however, individuals may experience additional advantages when using ED medication (although this may not be the case for all men):
A possible increase in self-esteem and sexual confidence.
Potency in the system for up to 36 hours.
Can start to work within 20-30mins of use.
High success rate in users.
How does Tadalafil work?
Tadalafil works in the same way as other phosphodiesterase type 5 inhibitors, better known as PDE-5 inhibitors, in helping men with poor blood flow achieve and sustain an erection by inhibiting certain chemicals and boosting blood flow to the penis.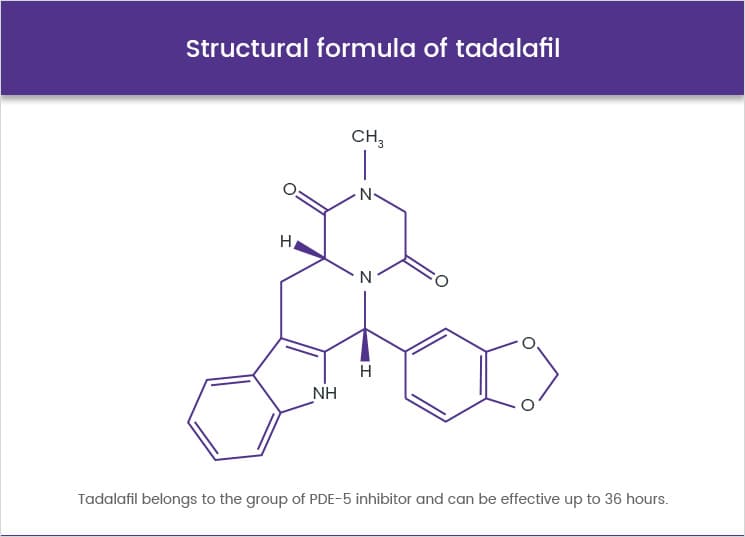 When you get an erection blood flow to the penis increases and this makes the penis harden. An erection is a complicated process involving thoughts, nerves, blood and muscles - this means it can go wrong at several stages.
Inside the penis are two chambers called the corpora cavernosa which with blood to create an erection. An erection starts in the brain. Stimulation triggers the transmission of a messenger substance called cGMP to penile blood vessels making them relax and open up, increasing the rate of blood flow. The usually empty penile chambers fill with blood and a a firm erection forms.
After orgasm the chemical PDE-5 is released - this breaks down cGMP and allows blood to leave the penis. Tadalafil inhibits the release of PDE-5, and relaxes the penile blood vessels, which widens them and allows improved blood flow to enter and harden the penis. This helps the patient to achieve an erection and/ or sustain it for a longer period.
All PDE-5 inhibitors including Tadalafil only work when you are sexually stimulated. Foreplay is necessary to achieve an erection following any impotence medication.
How do I take Tadalafil (generic Cialis)?
Tadalafil is a small oral tablet that should be swallowed whole with a glass of water, do not break or chew the tablet as this can reduce its efficacy. Tadalafil is available in different doses, so there is no need to break tablets.
For the most effective results Tadalafil should be taken 30 minutes before sexual intercourse is expected, but it can work sooner. One dose is enough to last up to 36 hours.
You should take only one Tadalafil tablet in 24 hours as instructed by your doctor. A dosage should never be increased without a previous consultation. Tadalafil is a prescription drug and it can have side effects if taken in excess.
Unlike most PDE-5 inhibitors, Tadalafil can be taken with food. However, alcohol can interfere with how it works, lowering your blood pressure and your blood flow. Avoid excessive alcohol when you plan to use Tadalafil, and take care standing up or moving around if you do have a drink because it may make you dizzy.
How long does Cialis last for?
Cialis can last up to 36 hours, although this is not the case for every man. The diagram below shows the typical concentration of Cialis in the blood. The effect begins to lessen after 6 hours of taking the tablet.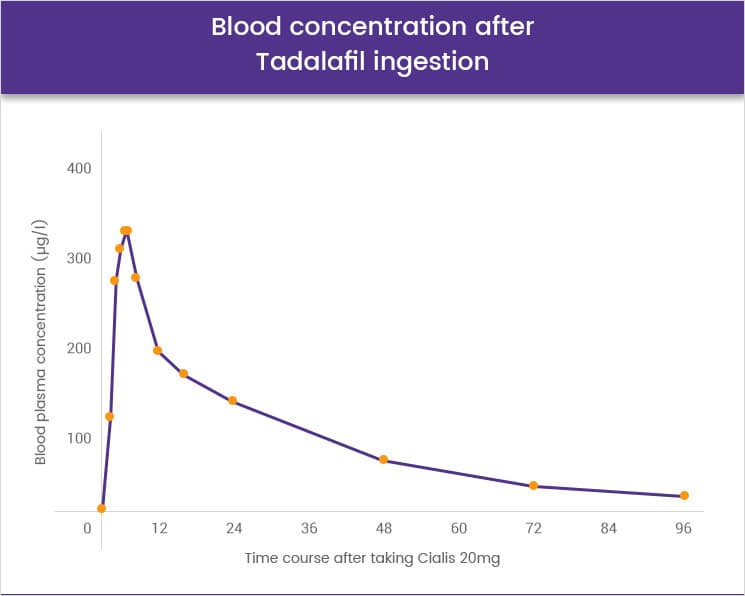 Grapefruit juice has been known to interfere with Tadalafil, reducing its effectiveness, therefore it should be avoided.
If you take more than the prescribed dose of Tadalafil speak to your doctor as you may experience unwanted side effects.
What dosages of Tadalafil are available?
Tadalafil (generic Cialis) is available in a range of doses and your doctor will prescribe the suitable one for you.
Your prescription will depend on your level of erectile difficulty, your health, and any current medication you are taking. Any previous reactions to PDE-5 inhibitors should be reported to your prescribing doctor.
Tablets are available in 5, 10 and 20 mg. The recommended starting dose is 10mg, and this is usually sufficient for most men, but it can vary depending on your needs. The 20mg dose may be prescribed if smaller doses have not been effective.
The 5mg dose is usually prescribed for men who need a small daily dose, or who have medical issues that prevent a higher amount, such as high blood pressure, diabetes, or PDE-5 inhibitor side effects.
If your dose is not strong enough, your doctor may be able to raise it until you are able to achieve a satisfactory erection.
What are some precautions/interactions to be aware of when taking Tadalafil?
Tadalafil is a prescription drug and whilst it is very tolerable, it may not be suitable for every man, especially with certain medical conditions. If you are allergic to the ingredients, or have a serious condition such as heart disease, a stroke or uncontrolled blood pressure, you should not take Tadalafil.
If you use nitrates either medically, for example if you have angina, or you use recreational nitrate-based drugs, Tadalafil is not suitable. This is because PDE-5 inhibitors increase the effect of nitrates and may lower your blood pressure.
Your doctor will decide if Tadalafil is compatible with any other medical conditions or current medications. You may be able to take Tadalafil at a lower dose even if you already take certain drugs or have pre-existing conditions, so always disclose your full medical history.
Women and children under 18 should not take Tadalafil. It is not effective in women and may lead to side effects.
What side effects are commonly associated with Tadalafil?
Tadalafil is a prescription medication, meaning you are not able to buy it over the counter at a pharmacy - this is because it can cause side effects in some men.
Tadalafil is usually safe and trouble free for the majority of users, but there are some side effects to be aware of. If you experience these regularly speak to your doctor, but many men find they need a short period of time as their body adjusts to the new medication before continuing without problems. If you have regular side effects a smaller dose may be more suitable.
Common side effects can include:
Nasal congestion
Facial flushing
Headaches
Muscles aches
Indigestion
Less common symptoms experienced by less than one in 1,000 men include chest pains, dizziness, rash, palpitations or blurred vision. If you experience any of the less common side effects speak to your doctor before taking any further pills.
Side effects are rare with Tadalafil and an allergic reaction is extremely unlikely, however, if you experience difficulties breathing, develop hives, or suddenly lose your vision, seek immediate medical help.
Priapism is a common worry, but a prolonged painful erection is very rare.
Can I buy Tadalafil (generic Cialis) online?
To buy Tadalafil (generic Cialis) online in the UK, you need to complete a free online doctor consultation to be issued a prescription. This only takes a few minutes and allows our doctors to assess your medical information and decide if Tadalafil is the best treatment for you.
HealthExpress offers a confidential and secure ordering service, ensuring that you can buy your Tadalafil pills online with confidence. Plus, we only use discreet, plain packaging, which means you can get it delivered to a destination of your choice.
How can I buy Tadalafil online safely?
Buying Tadalafil online is convenient and it avoids any unnecessary embarrassment or a long wait for a doctor's appointment. Once you complete your consultation and it is approved, this remains in your personal member's area for future use.
Where can I buy Tadalafil safely?
You can buy Tadalafil (generic Cialis) safely online at HealthExpress. We only sell prescription medication from UK pharmacies and all our doctors are GMC registered health practitioners.
If you are looking to source Tadalafil online, choose a reputable pharmacy that is registered with the Medicines and Healthcare Products Regulatory Agency (MHRA). If you don't see their logo think carefully about your purchase as it is likely you will not receive safe medications, but potentially counterfeit drugs.
Do I Need A Prescription for Tadalafil?
Yes, Tadalafil (generic Cialis) is a prescription drug that requires a valid prescription. Our qualified doctor will issue an appropriate prescription after you have completed an online consultation.
How will I know it is authentic?
Medications will arrive in authentic packaging with a full patient leaflet. If you are unsure contact our customer service centre for peace of mind.