What is Betnovate?
Betnovate is a popular treatment for a variety of skin problems. It is a corticosteroid and reduces swelling and redness. This makes it ideal for relieving the symptoms of eczema, psoriasis and haemorrhoids.
This treatment is currently available from HealthExpress for haemorrhoids, otherwise known as piles - an unpleasant (and often painful) condition. Betnovate soothes the affected area. You have the choice between cream, ointment and lotion - in tubes of 30g or 100g.
Betnovate should only be applied to external piles and external irritation as a result of piles. For internal hemorrhoids, HealthExpress offers other treatments that come in suppository form, including Uniroid HC, Proctosedyl and Anusol HC.
Please note, that lotion and ointment are thinner and better for applying to larger, hairier areas of skin. In comparison, creams are better for skin that is moist. If you are unsure which is right for you, please consult your doctor. However, all forms of Betnovate are effective when applied correctly.
How does it work?
Haemorrhoids
The active ingredient in Betnovate is a topical corticosteroid called betamethasone (0.1%). It is applied directly to the skin to provide effective relief.
Inflammation of the skin is usually due to an allergic reaction or over-sensitivity of the skin. In the case of haemorrhoids, it is due to the increase in pressure on small veins and blood vessels around the anus.
Betamethasone works by reducing your body's release of the chemicals that cause inflammation.
If you find that this medication has little effect on your piles, please contact your doctor to discuss alternatives.
Eczema and psoriasis
If you have either of these conditions, your body has an overactive immune system. When you are exposed to irritants, like pollen or pet dander, your immune system sees this as a threat. It responds with inflammation and (for psoriasis) by producing extra skin cells.
Betnovate, and all corticosteroids, calm the immune system. They are synthetic versions of the hormone cortisol. Cortisol is released naturally for this purpose.
What is Betnovate used for?
Betnovate is a topical treatment that is commonly used to treat various skin conditions, including inflammation and itching in several skin conditions such as psoriasis, dermatitis and external haemorrhoids. It is available as a cream, ointment or lotion.
How do I use it?
You should only take this medication if you have been prescribed it by a doctor.
For full details of the safe use of Betnovate, please ensure you read the patient information leaflet (this will be included with your order). If you have any concerns, please contact your doctor.
Haemorrhoids
A brief summary:
you should always ensure you wash your hands before use and ensure that the affected area is clean
make sure the affected area has been dried thoroughly and apply the cream, lotion or ointment sparingly and evenly
you should apply treatment two or three times daily (depending on the severity of the symptoms)
once improvements are noticed, you should reduce the amount applied
Please note, this remedy should only be used for external application and for short-term use.
Your symptoms should start improving within a week of use. Even if symptoms do not get better after continuous use, you should discontinue treatment after four weeks. If symptoms have not yet subsided after this point, please contact your doctor.
Eczema and psoriasis
If you have any questions about how to apply treatment, speak with your GP.
For eczema and psoriasis only, please consult the diagram below to know how much treatment to apply to different body parts: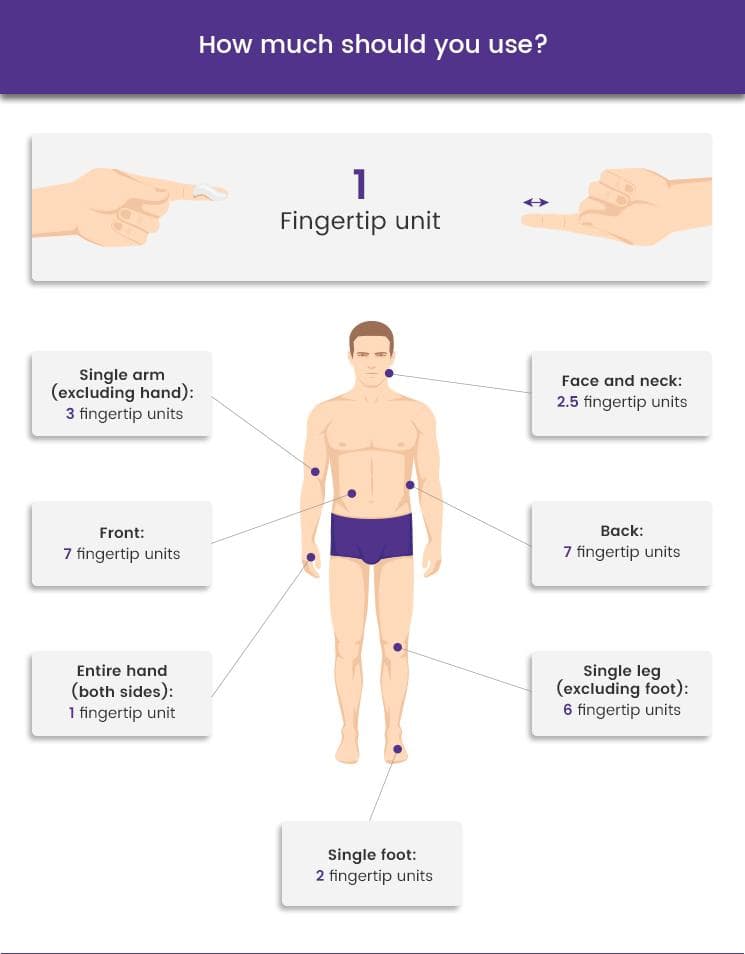 Instructions:
apply a thin layer of treatment once or twice a day - reduce to once as symptoms improve
do not apply to the face unless directed by a doctor
do not exceed the recommended course
apply until completely absorbed by the affected skin
if you forget a dose, do not apply extra. Instead, continue as normal
If you find there is no change to your symptoms after 7 days of use, or if symptoms worsen, stop treatment and inform your doctor.
What does Betnovate cream do?
Betnovate cream contains the active ingredient betamethasone, which helps to reduce swelling and redness in the affected area.
What are the possible side effects?
You will most likely not develop any side effects when using Betnovate, however, it is always best to know the risks associated with any prescription medication.
The most commonly occurring include:
skin reactions
telangiectasia (spider veins)
Less common reactions include:
adrenal suppression
hypertrichosis (hair growth)
skin depigmentation (may be reversible)
If you are concerned by any side effects or you experience any that are unlisted, you should speak to a medical professional as soon as possible. You will find a full list in the patient information leaflet.
You should also inform your doctor if this treatment makes your symptoms worse.
Is Betnovate good for psoriasis?
Yes, Betnovate is an effective treatment for psoriasis flare ups. Please note that Betnovate is not available on HealthExpress for this condition and you should consult your doctor if you need it for psoriasis.
Who can use this treatment?
Betnovate cream can be used by men and women over the age of 18. It is suitable for people suffering from the uncomfortable symptoms caused by haemorrhoids or other skin conditions such as dermatitis and psoriasis.
Haemorrhoids
Betnovate is not suitable for everyone with haemorrhoids and may not be prescribed in some cases. This includes those that:
suffer from liver or kidney problems
have rosacea or severe acne
are pregnant or breastfeeding
are allergic to the active ingredient betamethasone valerate
have skin infections at the site of application
are taking medication containing neomycin or chlorhexidine
If any of these apply to you, please ask your GP about different treatments.
Eczema and psoriasis
You should ask your doctor about alternative treatment if you:
are allergic to any of Betnovate's ingredients
are planning to use it for rosacea, acne, cold sores or chickenpox/shingles
have any open wounds or broken skin on the affected area
have an undiagnosed skin condition
are using any other corticosteroid
have had a bad reaction to any corticosteroid in the past
Is Betnovate cream a steroid?
Yes, the active ingredient of Betnovate, betamethasone, is a steroid.
What precautions should I take?
Haemorrhoids
You should not apply this treatment for more than four weeks. If your symptoms get worse or not improve, you should see your doctor for further assessment. Long-term use of this treatment is not advisable.
Eczema and psoriasis
After applying the treatment, do not cover with bandages or airtight clothing.
You should avoid smoking or going near naked flames when using Betnovate. The cream and ointment is flammable.
Do not exceed the recommended course. Overuse of this treatment will not make it more effective and may result in side effects like thinning of the skin.
For more information about side effects, interactions or precautions, please refer to the patient information leaflet - this can be downloaded using the link to the right of this page.
Does Betnovate stop itching?
Yes, Betnovate is a very potent anti-itch treatment for haemorrhoids.
Can I buy Betnovate online safely?
You can buy Betnovate online from HealthExpress for haemorrhoids. We ask that you first complete a confidential consultation. Here, you should detail any medical conditions you suffer from as well as the medications you are taking. The form does not take long to complete.
One of our doctors will then determine whether the selected treatment is suitable for you to use. Once approved, an order will be issued to our pharmacy. You can then expect delivery the very next-day.
Can you buy Betnovate over the counter?
No, Betnovate is only available on prescription.
Can you use Betnovate on your face?
Yes, Betnovate can be applied to the face for some conditions but you must only use 2 1/2 fingertip units. For more dosage instructions, please refer to the patient information leaflet.
Is Betnovate a hydrocortisone?
No, hydrocortisone is a different topical steroid that is available over-the-counter.
Is Betacap the same as Betnovate?
No, whilst they both contain the same active ingredient, Betacap is only used to treat conditions of the scalp whereas Betnovate can be applied across the body.