What is Cialis Once-a-Day?
Cialis Once-a-Day, also known as Cialis Daily is the most recent and innovative treatment for erection problems. It is the only prescription medication currently available which is designed to be a regular treatment for erectile dysfunction (ED). Cialis Once-a-Day will help you to get and keep erections whenever you want, without having to worry about taking a pill just before sex.
Cialis Once-a-Day is taken on a daily basis, like other medicines, and allows you to have fuller and longer lasting erections on a regular basis. Because it is taken on a daily basis, Cialis Once-a-Day comes in much lower doses (2.5mg and 5mg) than other ED treatments - this means greatly reduced chances of experiencing side effects. The lower doses also mean that it can be taken by men who have other medical conditions such as diabetes, high cholesterol and high blood pressure.
You shouldn't have to plan your sex life, and with Cialis Once-a-Day you don't have to - when the moment comes, you'll be ready.
How do I take Cialis Once-a-Day?
One tablet of Cialis Daily should be taken once every day with water. It can be taken at any time of the day, with or without food, but it is recommended that you take your daily dose at approximately the same time of day. Cialis Once-a-Day may take up to 4 or 5 days to start working for you, after which you will be able to achieve and maintain stronger erections whenever you want, for as long as you continue treatment. As with all other treatments, this will only help you to get an erection when you want one - you need not worry about uncontrollable erections.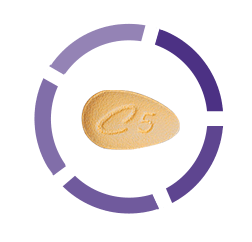 Take one Cialis low dose tablet daily with water as required
Do not drink excessive amounts of alcohol before or after using it
Do not skip doses or break the tablet in half
Do not take more than one dose a day
It will only work upon sexual stimulation
How can I buy Cialis Once-a-Day?
You can buy Cialis Once-a-Day online from HealthExpress.co.uk after completing your free online consultation. The consultation consists of a few medical questions which will allow our doctors to recommend the best treatment option for you.
Once your completed consultation has been reviewed, we will let you know via email and text message, after which you will be able to view your treatment options and prices.
How to order Cialis Once-a-Day online?
To begin, all you have to do is begin your free consultation. Once you've been approved by our doctors, you can order your treatment online or even over the phone. If you have any questions or need any assistance with the consultation or ordering process, please do not hesitate to contact us.