What is Dermovate?
Dermovate is a steroid treatment for more chronic skin conditions and conditions that have not responded to milder topical corticosteroids. A dermatologist will typically prescribe this product for bad cases of:
discoid lupus erythematosus
lichen planus
As a steroid, Dermovate reduces the inflammation and swelling that all these conditions cause. You will find that this relieves other symptoms, such as itching, pain and redness.
You can buy Dermovate online from HealthExpress as either a cream or ointment. The cream is recommended for large areas of skin, whereas the ointment is better for dry skin.
This product is considered a 'very potent' steroid. It should only be used if milder, moderate and potent treatments have proved unsuccessful. Products to consider first include Daktacort and Fucidin. However, only if you also have a skin infection. If in doubt, follow the advice of your doctor.
How does Dermovate work?
Dermovate contains the active ingredient clobetasol propionate* - a very potent steroid.
Steroids work by suppressing your immune system. While this may sound drastic, many skin conditions, especially eczema and psoriasis are caused by an overactive immune response.
In the case of eczema, your skin becomes inflamed after contact with certain irritants like pollen, perfumes and animal hair.
In the case of psoriasis, your skin produces extra cells in patches - again, this is prompted by exposure to irritants and triggers, e.g. weather, detergents and stress.
By lessening the immune response, a steroid reduces inflammation. Inflammation is the source of many uncomfortable symptoms, for example:
itchy skin
burning sensations
redness
swollen joints
If you find your symptoms worsen or do not ease after 7 days of treatment, you should contact your doctor.
If you believe there is another source of your symptoms, such as bacterial or fungal infection, you should ask your doctor about other treatments. For example, Trimovate is an effective steroid with additional antifungal and antibacterial properties.
*Clobetasol is available as a generic. Dermovate is the brand name.
How do I use it?
As with all medications, you should follow the advice of your doctor. You can also reference the patient information leaflet (PIL). All orders from HealthExpress include a PIL, and it is also located on the side of this page.
Different parts of the body will need different amounts of treatment applied. You should use the graphic below to decide how much cream or ointment to use. One 'fingertip unit' is classed as from the finger's tip to the first joint (furthest from the centre of the hand).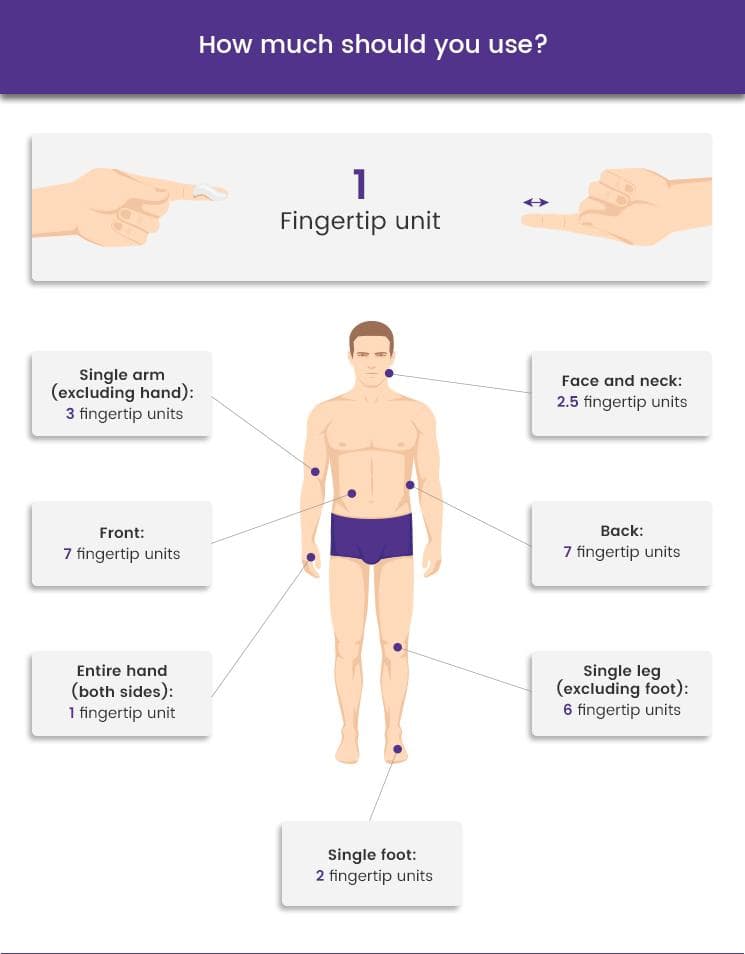 If you are still unsure how much to apply, you should contact your GP.
Using Dermovate cream and ointment:
you should wash your hands before and after applying treatment
apply treatment in a thin layer up to two times daily
as symptoms improve, you can reduce to once daily
do not apply any other lotion or moisturising cream (emollient) to the affected area until the treatment has been absorbed
do not exceed the recommended duration of treatment - 2 weeks of continuous use
do not apply treatment below tight clothing or bandages unless told to by your doctor
If you accidentally apply too much cream or ointment, inform your doctor.
If you accidentally ingest this product, seek immediate medical attention.
What are the possible side effects of Dermovate?
The overuse of steroids will not make them more effective. However, it will increase the chance of side effects occurring.
As Dermovate is applied directly to the skin, the most common side effect is unexpected skin reactions, including telangiectasia (spider veins). You should contact your doctor as soon as possible if you experience this side effect or if your symptoms worsen.
Rarer reported side effects include:
adrenal suppression
hypertrichosis (hair growth)
changes to skin pigmentation
Again, if you experience these or any unlisted side effects, please seek medical attention.
You should familiarise yourself with the symptoms of an allergic reaction. These include rashes, swelling of the face and mouth and difficulty breathing. If you suspect an allergic reaction, contact your doctor ASAP. If you ever struggle to breathe, call 999.
Who can use it?
Even though Dermovate is a skin treatment, it will not work for all conditions. You should not use it to treat:
undiagnosed conditions
perioral dermatitis
any bacterial, fungal or viral skin infections (e.g. herpes, impetigo)
widespread plaque psoriasis
lesions located around the eyes or genitals
skin imperfections (e.g. pimples, stretch marks)
untreated cutaneous infections
pruritus without inflammation
You should also look at different treatments if you have ever had an allergic attack from any of the ingredients of this product (listed in the PIL) or any other corticosteroid.
What precautions should I take?
To ensure that your use of this product is effective and safe, you should not:
apply treatment to your face (unless instructed by a doctor)
exceed the recommended course (maximum 2 weeks of continuous use)
use other steroid treatments
use other treatments that your doctor has not advised
As mentioned, Dermovate is a very potent steroid. You must have regular checkups with your doctor to gauge your progress.
Please note - this product causes skin thinning. You should not apply it to the face for longer than 5 days. You should also only apply it to the face if advised by a doctor. Do not make the decision yourself.
If you have a history of osteoporosis or any other bone disease, you should inform your doctor before you use this product. You should also report any changes to bone pain.
Can I buy Dermovate online?
When you order any medication from HealthExpress, we ask you to complete a short online consultation. The form is confidential and allows our doctors to examine your medical history to ensure that Dermovate is safe for you to use. You should answer the form thoroughly and honestly, detailing all medications you are currently taking.
What are my delivery options?
We pride ourselves on our speedy delivery service. Prescription medication is not something you should have to wait on. All mainland UK orders come with complimentary next-day delivery.
If you are not in that much of a rush to receive treatment, you can also select any nominated day or use the UPS Access Point service - again, there are no additional delivery charges.