What is Sildenafil?
Sildenafil is the most commonly prescribed ingredient for the treatment of erection problems, and is used by over 20 million men worldwide.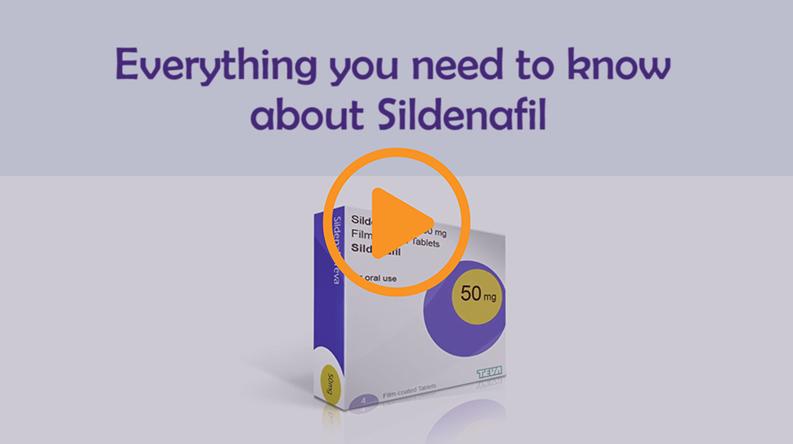 Sildenafil citrate is the active ingredient in branded Viagra and therefore works, in the same way, to increase the flow of blood to the penis, allowing you to achieve and maintain a firm erection throughout sexual intercourse. Sildenafil works effectively in the system, taking effect in under an hour and remaining active for up to four hours. Sildenafil tablets are available to buy in dosages of 50mg and 100mg.
What are the benefits of using Sildenafil?
Erectile dysfunction (ED) can lead to, and be caused by, psychological issues such as relationship problems, depression and performance anxiety. Performance anxiety is the most common cause of erectile issues among younger men; such is their desire to please their partner. Whilst sildenafil can help alleviate the physiological factors behind erectile dysfunction, it's always best to talk through any psychological problems with your partner. Known benefits for using sildenafil include:
Possible increase in sexual confidence
Stronger, sustained erections
Possible improvement in self-esteem
Improving your sex life could be the kick-start you need in order to press-on in other areas that may have been neglected due to dissatisfaction in your romantic relationships. Sometimes, sexual discontentment can lead to other psychological issues such as depression and anxiety. That's why it's always helpful to try and tackle the underlying issues. For more information, please refer to these useful NHS resources Trusted source NHS Government Source Go to source or speak to your doctor.
Also, it is strongly advised not to take more than one dosage in a single day.
How does Sildenafil work?
Erectile dysfunction occurs when the blood flow to the penis is limited preventing a strong enough erection required for sexual activity. This is due to an abundance of an enzyme called phosphodiesterase type 5 (PDE 5). The majority of erectile dysfunction medications are in the PDE5-inhibitor family of drugs, meaning they all work in a similar capacity. The active ingredient, sildenafil, works by restricting the impact of this enzyme so that the blood vessels in your penis can open sufficiently. This ensures that there is sufficient blood flow when you are aroused, ensuring that you can achieve and sustain an erection for a longer duration.
How do I take Sildenafil?
Sildenafil is taken in the same way as Viagra. Take one pill about 30-60 minutes before sex. You can take the pill with a glass of water, but do not take more than one pill within 24 hours.
Sildenafil can last for up to four hours. However, this doesn't mean you'll be erect throughout this time period. After you climax, your penis will return to its flaccid state until the next time arousal can be achieved.Like other PDE-5 inhibitor medications, Sildenafil capsules don't increase your sexual desire, but will enhance the strength of your erections when you do become sexually aroused.
What dosages of Sildenafil are available?
Sildenafil is available in three different strengths - 25mg, 50mg and 100mg.
The recommended starting dose for Sildenafil is 50mg. For men who experience negative side effects, this can be lowered to 25mg. For men where 50mg is not effective enough, nor does it cause any unwanted side effects, then the dose can be increased to 100mg.
25mg - For men known to experience frequent side effects
50mg - The recommended starting dosage
100mg - For men who have found the 50mg to be ineffective
What precautions/interactions should I be aware of with Sildenafil?
Sildenafil should not be taken alongside other PDE5 inhibitors such as Cialis (taladafil), Spedra (avanafil) or Levitra (Vardenafil).
When taking Sildenafil citrate tablets, care should be taken when using the treatment alongside other medication or foods. Although there are no known negative interactions between sildenafil use and alcohol consumption, it is suggested that the user limits the amount of alcohol consumed before and after the use of the treatment as its effectiveness may be compromised.
Your diet, on the other hand, may affect the use of this medication. The NHS Trusted source NHS Government Source Go to source indicate that ingesting grapefruit or grapefruit juice can increase the levels of free flowing sildenafil citrate in the blood, in addition to significantly lowering the blood pressure in the body, which could lead to an increased risk of side effects and other serious cardiac problems.
For more information about Sildenafil, please make sure to download the patient leaflet we've supplied towards the bottom of the page. Alternatively, you can always call our friendly customer service team.
What are some side effects associated with Sildenafil?
Most of the side effects associated with Sildenafil are mild in nature and are unlikely to affect you. Nevertheless, it's always helpful to know the risks before buying any prescription medication online. Common side effects include stuffy nose, dizziness, headaches, indigestion and facial flushing.
Certain medications have been known to interact with sildenafil, so always mention any current medication you are taking during your online consultation.
At HealthExpress, we only sell clinically tested and approved medication. Sildenafil is usually safe and effective for most men to use, however it is considered unsuitable for men who have certain underlying health conditions. These include heart disorders, decreased liver function, low blood pressure, and galactose intolerance.
If you're concerned about how you'll react to the treatment, always disclose full details of your medical history to our doctors, and they will be able to determine whether it is the right treatment for you.
How can I lessen the risk of side effects?
Whilst for some men, avoiding side effects will be difficult, there are certainly ways you can lower your chances of experiencing them. For example:
Lower your alcohol consumption - This not only lessens your chances of side effects, but excess alcohol can also dampen the efficacy of the treatment.
Take with food - Although most effective on an empty stomach, eating something before hand may lower the chances of experiencing side effects.
Take a lower dosage - Some men find the lower 25mg dose remains effective, whilst simultaneously reducing their side effects.
Avoid nitrates - Nitrates similar to sildenafil, can lower blood pressure. The combination of the two can lead to dangerously low blood pressure levels and consequently a heart attack.
Check for drug interactions- As discussed below, it's important to talk to your doctor if you think you might be taking something which interacts negatively with Sildenafil citrate
How can I buy Sildenafil online?
To buy Sildenafil online in the UK, you need to complete a free consultation to be issued a prescription. This only takes a few minutes and allows our doctors to assess your medical history, and decide if Sildenafil is the best treatment for you.
HealthExpress offers a confidential and secure ordering service, ensuring that you can buy your Sildenafil pills online with confidence. Plus, we only use discreet, plain packaging, which means you can get it delivered to a destination of your choice.
Is it safe to buy Sildenafil online?
Buying from HealthExpress is a registered service with UK-certified doctors and pharmacies. We can guarantee that Sildenafil purchased on HealthExpress is a genuine prescription medication. Our doctor individually reviews every consultation to ensure the treatment, quantity, and dosage is safe for you to use.
Getting Sildenafil delivered in the UK
Across the UK, we use Royal Mail to deliver Sildenafil. Our next-day delivery is free of charge and will arrive at your chosen address the next-day, including Saturdays. This is on all orders completed and approved by our doctor by 4.30pm Monday to Friday. Weekend orders, including Friday evenings, will be delivered on the following Tuesday.
We also offer a nominated day delivery, meaning you're in control of when and where your medication is sent.
We have UPS pickup points if you'd prefer to collect from a local shop in person.
How do I know if it's authentic Sildenafil?
Sildenafil will come in genuine packaging, including blister packs for the tablets. It is blue and has the medication name and dosage engraved on each tablet. Every medication will come complete with the patient leaflet, which must be thoroughly read before use. At HealthExpress, our process includes checks from our doctor and the UK-registered pharmacy to ensure the authenticity of Sildenafil.
If you are unsure in any way, you can contact our Customer Service for further validation, or check our safety certificate present on the home page of this website.
Do you have any other queries or observations?
If you have any further questions regarding Sildenafil that we haven't answered here, you can always contact our Customer Service Team via email, phone or Live Chat available Monday to Friday 8am-5.30pm.