What is Pantoprazole?
Pantoprazole is a medication used to combat acid reflux and any complications. It belongs to a group of medicines called proton pump inhibitors. These medicines stop excess stomach acid from being produced, providing relief from symptoms for up to 24 hours.
Pantoprazole can effectively treat the following conditions:
peptic ulcers
gastro-oesophageal reflux disease (and heartburn)
ulcers caused by long-term use of NSAIDs
Zollinger-Ellison syndrome
How does Pantoprazole work?
The cells that line your stomach contain proton pumps - these are the mechanisms that produce stomach acid. In moderate amounts, acid aids digestion, but excessive amounts can lead to acid reflux and associated heartburn and pain. As a proton pump inhibitor, Pantoprazole reduces the amount of acid these cells can produce.
If excess stomach acid is produced, or if the protective layer in your stomach and small intestine is damaged, a peptic ulcer can form. Taking Pantoprazole can give your body the time to heal.
To treat ulcers caused by infection, Pantoprazole is generally prescribed alongside antibiotics, to eradicate the bacteria.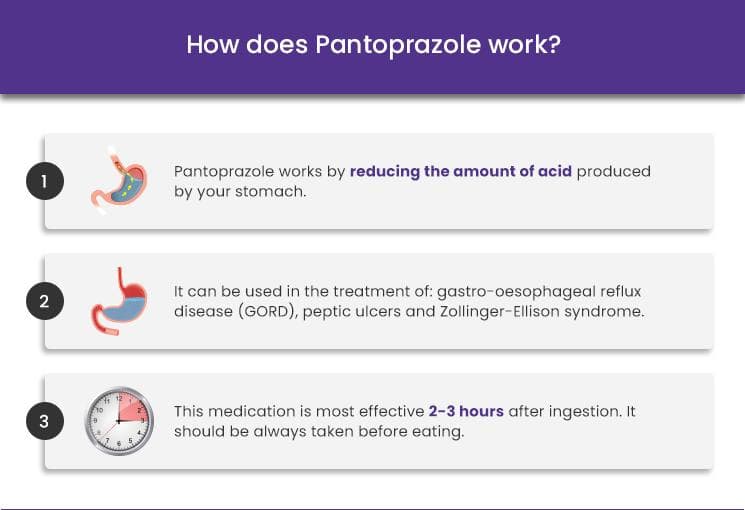 How do I use Pantoprazole?
Pantoprazole tablets are available in two dosages- 20mg and 40mg.
Pantoprazole is also available in a powder solution.
The standard dosage for treating heartburn is one 20mg tablet a day, for a maximum of 4 weeks.
For other conditions, your doctor will advise you how many tablets to take, how often and for how long. This will depend on the condition being treated, and this advice will be detailed in the patient leaflet.
Pantoprazole tablets should be swallowed whole with a glass of water, one hour before a meal. Do not break, crush or chew them.
If symptoms don't improve after two weeks, you should seek medical advice from your doctor.
What are the side effects of Pantoprazole?
Not everybody taking Pantoprazole will suffer from side effects, however, those most commonly reported include:
headache
dizziness
constipation
diarrhoea
wind
abdominal pain
dry mouth
insomnia
fatigue
rash and itching
What precautions should I take?
You should always tell your doctor or pharmacist what other medicines you are taking, including prescription and over-the-counter medications. They will need this information to determine whether there is a risk of interactions.
Pantoprazole can enhance the anti-blood-clotting effects of Warfarin, so if you are taking this medicine you should consult your doctor.
This medicine should be used with caution by those who have:
osteoporosis or are at risk of developing it
vitamin B12 deficiency
decreased liver or kidney function
There is a slightly increased risk of infections in the stomach, such as Campylobacter or Salmonella, when taking this medicine.
This medicine is not recommended for use in children under 12 years of age.
Breastfeeding mothers and pregnant women should not use Pantoprazole without first consulting their doctor, as it is not known whether this medicine can pass into breast milk.
Adults and the elderly can safely take Pantoprazole, provided they are not allergic to any of its ingredients.
How does HealthExpress' service work?
You can buy prescription medication from HealthExpress once you have completed an online consultation. You should detail your medical history, including any treatments you have previously taken/are taking. Our doctors will use this information to determine whether this medication is suitable for your use.
We offer free next-day delivery and nominated-day delivery, so you can choose when and where you want your order delivered.