What are GLP-1 agonists?
GLP-1 receptor agonists (GLP-1 RAs) are a group of medicines. They are also known as GLP-1 analogues or incretin mimetics. However, all of these terms refer to the same group of drugs.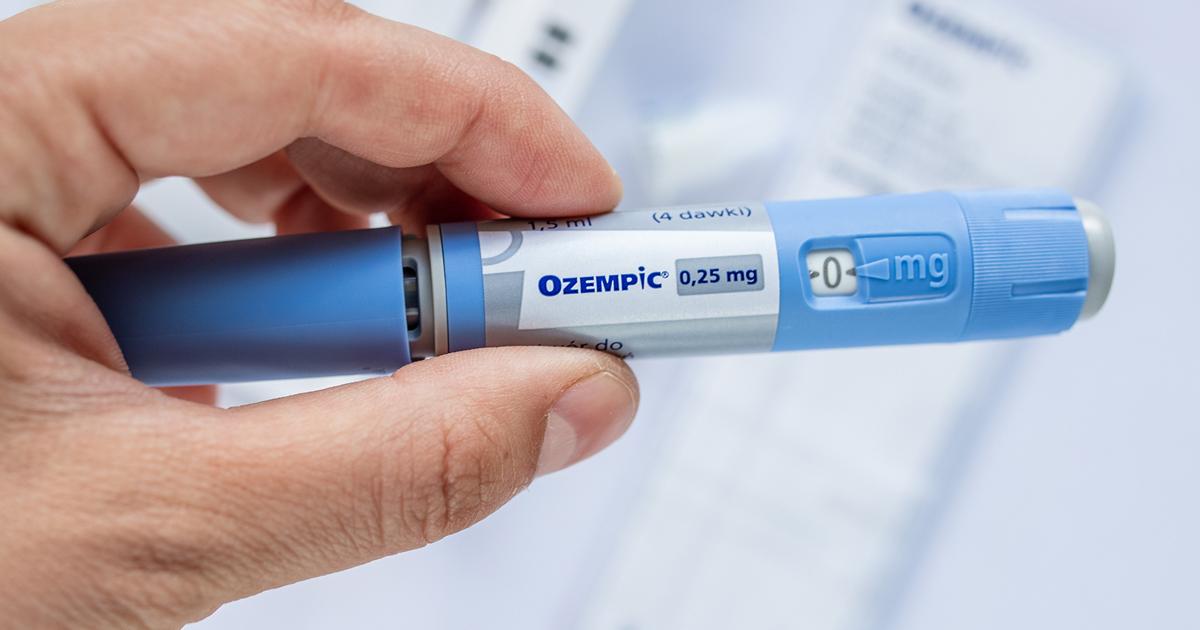 They are a relatively new type of diabetes drug and have only been used to treat diabetes since the mid-2000s. They are most commonly available as injection pens.
When testing the effects of these medicines, they found that they helped many patients lose weight.
Which GLP-1 agonists are available?
GLP-1 agonists are available as several drugs sold under various brands.
They all work in the same way. The only way they differ is how often you have to take them.
The table below gives an overview of what is currently licensed for weight loss and diabetes in the UK.
Drug
Brands
How to take
Diabetes
Weight loss
Semaglutide
Ozempic
Wegovy*
Inject once weekly
Liraglutide
Victoza
Saxenda
Inject once daily
Dulaglutide
Trulicity
X
Inject once weekly
Lixisenatide
Lixumia
X
Inject once daily
Exenatide
Byetta / Bydureon
X
Inject twice daily (Byetta)/ or once weekly (Bydureon)
*Wegovy has recently become licensed for weight loss in the UK. It is now available for purchase.
Semaglutide is also available as a tablet rather than an injection called Rybelsus. It is licensed for type 2 diabetes.
The two drugs licensed for obesity are manufactured by Novo Nordisk.
How do they work?
This group of drugs regulate the production of hormones responsible for your appetite.
GLP-1 agonists help your body make more of the hormone GLP-1 (glucagon-like peptide 1). The medicine turns on the GLP-1 receptors in your pancreas, which helps to make more of the hormone. This helps your body to increase insulin levels and control blood sugar levels.
This also influences your appetite. Higher GLP-1 levels slow down digestion and how often your stomach empties. This makes you feel fuller for longer and means you eat less.
Do I need to make lifestyle changes?
Yes. For the drug to work, you must make the necessary lifestyle changes to your diet and exercise habits.
You should consume fewer calories daily. To lose 0.5kg (1 lb), you should reduce your daily calorie intake by 500kcal. You should also eat healthy foods and avoid foods high in saturated fats and sugar.
As well as your diet, you need to change your exercise regime. According to the NHS, most people should exercise 75 - 150 minutes weekly. This could be as simple as walking or doing household chores.
How do you take GLP-1 agonists?
Always follow your doctor's instructions carefully because each drug is different.
Most are available as injection pens. This means you will need to inject yourself. The exact dosage will depend on the type
You will need to prepare the pen each time. Then, inject it into your lower stomach, the front of your thighs or your upper arm. Make sure to change the spot each time to limit the chance of experiencing a reaction.
Over time, your dose will gradually increase until you reach the maximum dose.
You must use the medication alongside a healthy lifestyle. Your doctor may stop treatment if you have not lost 5% of your body weight after 4 weeks.
How long do you take GLP-1 medications?
Once you have reached the maintenance dose, you can continue to take the medication long-term. Your doctor will monitor you and your weight closely, and they will decide when you should stop.
What are the benefits?
1. Effective for weight loss
The main benefit is that they are effective for weight loss when combined with a healthy diet and exercise regime.
Patients can lose up to 15% of their original body weight on a GLP-1 agonist.
Clinical trials investigating Saxenda and Ozempic found that patients lose 4-6kg Trusted source National Center for Biotechnology Information (NCBI) Government Source Biomedical Research and Literature Go to source over 20-60 weeks and almost 15% Trusted source The New England Journal of Medicine Peer-reviewed Journals Medical Research and Review Go to source of their original body weight.
A long-term study Trusted source Nature Peer-reviewed Journals Multidisciplinary Research Go to source found that patients kept the weight off, maintaining a 7.8kg loss after 2 years on Saxenda.
2. Lower risk of hypo
GLP-1 analogues have a unique benefit compared to other diabetes drugs.
Studies Trusted source National Center for Biotechnology Information (NCBI) Government Source Biomedical Research and Literature Go to source have found that these medications have a lower risk of dangerously low blood sugar levels, a condition known as hypo (hypoglycaemia).
If you take other diabetes medications, you may still need to adjust your doses to avoid any risk of hypoglycaemia.
3. Reduces the risk of complications
GLP-1 agonists could reduce your risk of developing health conditions later in life.
Research Trusted source National Center for Biotechnology Information (NCBI) Government Source Biomedical Research and Literature Go to source has found that these medicines can reduce the risk of cardiovascular disease. This includes conditions such as strokes and heart attacks.
Further studies Trusted source National Center for Biotechnology Information (NCBI) Government Source Biomedical Research and Literature Go to source also show it can lower your blood pressure and cholesterol levels.
What are the risks and side effects of GLP-1 agonists?
These medicines can cause side effects. However, most report that these side effects go away after a few days or weeks.
Some side effects of something can include feeling sick to your stomach, having diarrhoea and throwing up. It could also make you feel tired, dizzy or have trouble sleeping. You might also get an upset stomach, gallstones or a rash.
GLP-1 analogues can cause a condition called pancreatitis. It is rare but serious. If you have severe pain in your stomach, go to the doctor as soon as possible.
Always read the patient information leaflet of whichever medicine you are using.
Who can use GLP-1 agonists?
You can only be prescribed GLP-1 agonists:
for diabetes: if you have type 2 diabetes that is not well controlled with first-line treatments (e.g. Metformin)
for weight loss: if you have a BMI of 30 or above, or 27 - 30 and have a weight-related condition (e.g. high blood pressure, heart disease or high cholesterol)
Because of the potential risks, it is unsafe for some people to take these medicines.
Do not take them if…
Ask your doctor first if…

you or a family member has ever had MTC (medullary thyroid cancer)
you have MEN 2 (multiple endocrine neoplasia type 2)
you have ever had an allergic reaction to this medicine
you are pregnant or trying for a baby
you are over the age of 75 years or older
you have severe heart failure

you have severe stomach problems (e.g. gastroparesis)
you have or have had a liver or kidney disease
problems with your pancreas
you have or have had mental health issues
you are breastfeeding
you take other medicines for diabetes
you have thyroid problems
you take warfarin
If you take any other medicines or have any other health conditions, you should always consult your doctor before starting a new treatment.
What are the alternatives to GLP-1 agonists for weight loss?
If you can't take GLP-1 agonists, there are several alternatives:
Orlistat (Xenical) - a weight loss tablet that reduces the amount of fat digested from your diet, reducing the number of calories you absorb.
Mysimba - another weight loss tablet which alters parts of your brain related to appetite.
You should still consult your doctor, as both medications come with their risks and side effects.
How do I get GLP-1 agonists?
You may be able to get a GLP-1 agonist on the NHS. For diabetes, your doctor will prescribe if they think other treatments haven't worked. They may need to refer you to a specialist weight management service for weight loss.
The quickest way to get GLP-1 agonists is through a private healthcare provider. You can visit a specialist weight loss clinic or use an online doctor's service, like HealthExpress.
You can get a free weight loss consultation online at HealthExpress. If approved for treatment, you can order and receive it as early as the following day.
What is the average price of GLP-1 meds?
The cost of weight loss medications will depend on the healthcare provider. You can see our prices at the top of our respective treatment pages.
Does health insurance cover them?
Most private health insurance providers in the UK do not cover prescription weight loss treatments. However, always contact your provider and ask as policies will differ.